Extreme Abstraction
Friday, July 15, 2005–Sunday, October 2, 2005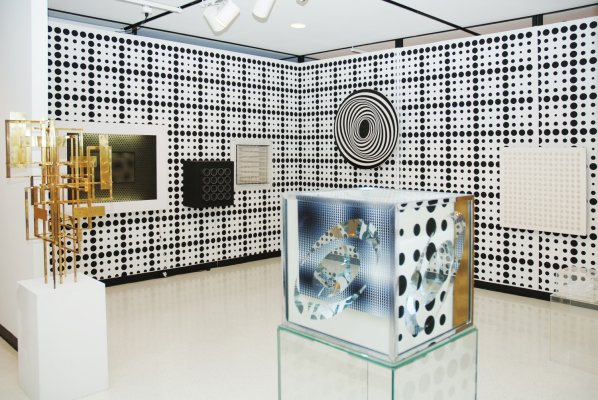 Entire Museum and Campus
Extreme Abstraction was a major exhibition surveying of the history and future of abstraction that spanned the Albright-Knox's three buildings and extended onto its outdoor campus during the summer and fall of 2005. Site-specific commissions by contemporary artists were juxtaposed with seminal works and recent acquisitions from the museum's collection to shape a visual trajectory of abstraction in the twentieth and twenty-first centuries. Allowing contemporary artists to revisit the museum's history and filter it through their own perspectives, this intermingling of historical and contemporary art emphasized the Albright-Knox's ongoing support of artists working in abstraction in all of its varied forms, from emotive and highly gestural expressions to cool and crisp architectonic explorations of design and structure.
This exhibition was organized by Director Louis Grachos and Associate Curator Claire Schneider.
Exhibition Sponsors

This exhibition was made possible through the generous support of Charles W. and Penny Banta; Collins & Maxwell, LLP; Mr. and Mrs. Richard Dirikson; Judge and Mrs. John T. Elfvin; Mr. and Mrs. Peter B. Flickinger; Agnes Gund and Daniel Shapiro; Roberta and Michael Joseph; Kevin W. and Karen Kennedy; The Seymour H. Knox Foundation Inc.; Dolly and Herbert Ladds, Jr.; Rosina Lee Yue and Bert Lies, Jr.; Norman Mack II; Nancy and Robert Magoon; Moog Inc.; The John R. Oishei Foundation; Joann and Gifford Phillips; Deborah Ronnen; Mr. and Mrs. Barclay Simpson; Sotheby's; Howard and Leslie Zemsky; and an anonymous donor.