Creative Commons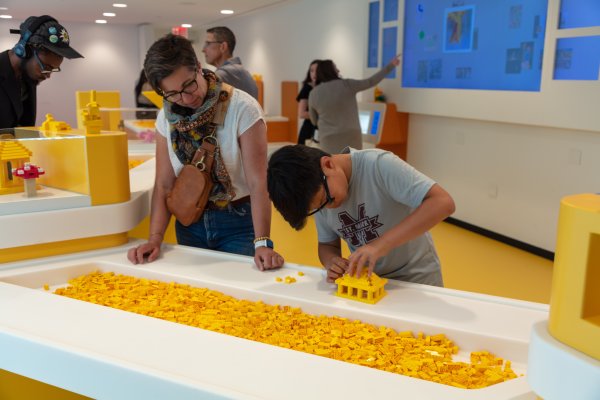 We believe play and creativity are for everyone.
Located adjacent to the Ralph C. Wilson Jr. Town Square, Creative Commons is a free, active space for ages five and up designed to help you create, share, and connect through fun and playful experiences with art.
Created in partnership with the LEGO Foundation, Creative Commons' innovative blend of art, artmaking, and technology links your creativity to the collection through joyful, artwork-centered play.
International leaders in Learning through Play, the LEGO Foundation believes that play is the best way to support learning and that supporting creativity through play nurtures our capacity to authentically contribute to our communities and positively shape the present and future world. The Buffalo AKG is proud to be the first fine art museum to partner with the LEGO Foundation on the creation of a dedicated space for play. Together, we aim to make learning through play more accessible and inclusive for all.
In Creative Commons, we aim to create a safe and joyful environment that helps our guests make meaningful connections to art, ideas, and each other.
Capacity is limited. No food or drink allowed. Activities may use small pieces. Designed for ages five and up.
Sponsors

Creative Commons was built in partnership with the LEGO Foundation. Leadership support was provided by Alan and Katie Heibein.