Several sculptures by Franz West were on view during Extreme Abstraction from July 15 to October 2, 2005. The top photo is a view of West's Ypsilon, 2004, on the Albright-Knox's grounds. The bottom photos present a view of the Sculpture Garden, including, from right to left, West's Meeting Point 3, 2004; Couch, 2004; and Sexuality Symbol, 2000, also installed during the exhibition.
West's sculptures deliberately call attention to the varied spectrum of the human form. Not taking himself too seriously, West had fun with shape and color to create engaging outdoor works. The fanciful shape of Meeting Point 3 started out as a kind of sculptural doodle the artist created as a model. The spontaneity of the design remains even when blown up to a monumental scale in aluminum and steel. His art is meant to be engaging, as the artist hopes visitors will interact with the works by using them as a playground, a place to rest, or a photo opportunity.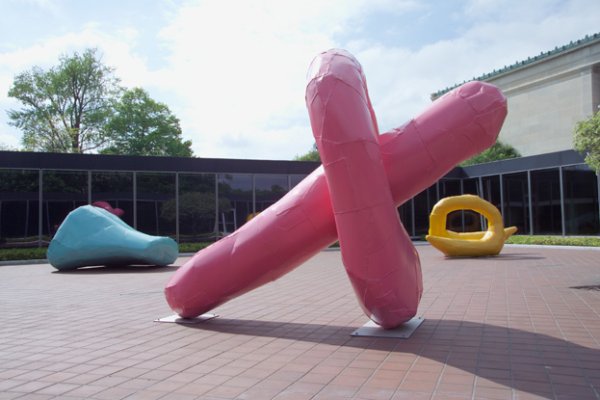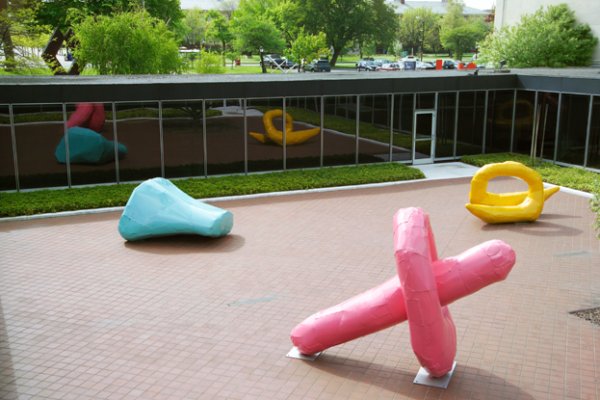 Extreme Abstraction was a major exhibition surveying of the history and future of abstraction that spanned the three buildings of the Albright-Knox and extended onto our outdoor campus. Site-specific works and commissioned pieces by contemporary artists were juxtaposed with seminal works from the museum's collection and recent acquisitions in a visual trajectory of abstraction in the 20th and 21st centuries. 

For more, visit the Albright-Knox's channel on Historypin.