Wish You Were Here: The Buffalo Avant-garde in the 1970s
Friday, March 30, 2012–Sunday, July 8, 2012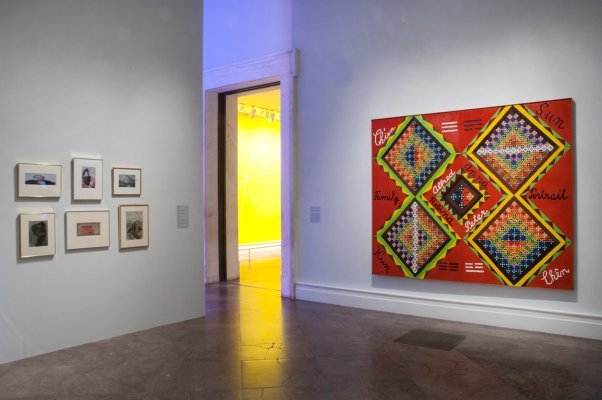 1905 Building
Wish You Were Here: The Buffalo Avant-garde in the 1970s surveyed a creative ecology that flourished in Buffalo in the 1970s comprising a loosely organized group of collaborative, interdisciplinary artistic communities spanning the visual arts, film, video, performance, literature, and music. Looking back on the art and ideas these groups propagated, one might argue that aspects of postmodern and contemporary art were seeded during this time, and that Buffalo was one of a group of geographic pockets that provided fertile ground for these concepts and methodologies to take hold. Wish You Were Here identified some of these concepts and examines the various threads of connectivity and collaboration that made Buffalo a site of radical creativity.
The title Wish You Were Here came from a notable anecdote of the time: In the aftermath of Western New York's catastrophic Blizzard of '77, instead of closing shop, Hallwalls responded with characteristic spontaneity and tenacity by putting together a memorable Snow Show featuring snow works by fifty-five artists. One of the participants, the artist Diane Bertolo, perfectly encapsulated the ironic yet persevering sensibility of the moment when she included a postcard-shaped wall painting on which she had written "Having a wonderful time . . . wish you were here." Grounding the exhibition as a geographically based exploration of a particular era, the title suggests not only a tongue-in-cheek response typical of outsiders' (and snowed-in natives') unenthusiastic view of Buffalo, but also a poignant sensibility referring to a moment that was truly special, something not to be missed.
The exhibition was organized around the various venues and organizations that galvanized the period: the Albright-Knox Art Gallery, a museum venue that, while fulfilling a broader mission including postwar modernist art, made a series of critically important gestures in mounting exhibitions by emerging artists, including Bruce Nauman, Paul Sharits, and Steina and Woody Vasulka; Hallwalls (now Hallwalls Contemporary Arts Center), originated in the halls of a former icehouse in 1974 by the artists Charles Clough, Robert Longo, Cindy Sherman, and others; the Center for Exploratory and Perceptual Arts, or CEPA, an organization founded in 1974 to promote experimental photography; the renowned English department at the University at Buffalo (UB), run by notable poets and literary critics, including John Barth, Robert Creeley, and Leslie Fiedler, and the synchronous grassroots poetry movement; the downtown, independent Media Study/Buffalo and the Center for Media Study (now the Department of Media Study) at UB, both operating by 1973 at the initiation of Gerald O'Grady and propelled by resident professors and filmmakers James Blue, Tony Conrad, Hollis Frampton, Paul Sharits, Steina, and Woody Vasulka; Artpark, founded in 1974 as an unchartered Land-art site where numerous artists—Ant Farm, Lynda Benglis, Nancy Holt, Gordon Matta-Clark, and Alan Saret, among many others—were granted long-term residencies; the Creative Associates and the Center of the Creative and Performing Arts, an avant-garde performance and music venue developed at UB and led by Lukas Foss, Lejaren Hiller, Morton Feldman, and Jan Williams; and the Buffalo Philharmonic Orchestra, led by Foss and, later, Michael Tilson Thomas.
This exhibition was organized by Curator Heather Pesanti.
Exhibition Sponsors

This exhibition is presented by First Niagara. It has been made possible, in part, through the generous support of The Kraus Family Foundation, The John R. Oishei Foundation, The Seymour H. Knox Foundation, Paul William Beltz LLC, D-B Trust, the Banta Family, The Cameron and Jane Baird Foundation, and donations made in memory of Melissa W. Banta, Anne Haughton, and Shirley Zemsky. Additional support has been provided by Bill and Linda Magavern, Cindy and Francis Letro, Ann N. Bonte, Mary and Sheldon Berlow, and Margie and Sandy Nobel.