Living Art: A. Conger Goodyear and Sculpture
Friday, November 4, 2011–Sunday, March 4, 2012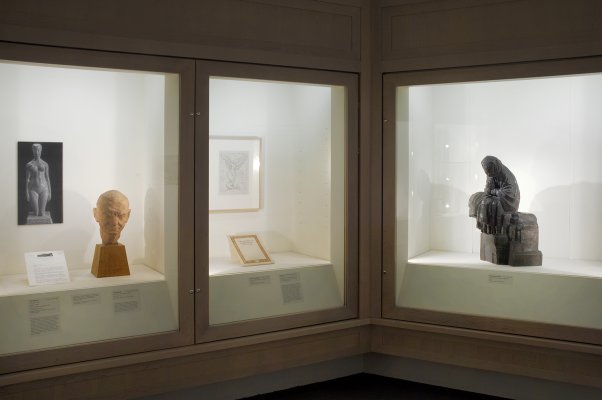 Gallery for Small Sculpture
Anson Conger Goodyear was born June 20, 1877, to a socially prominent family in Buffalo, New York. After achieving his undergraduate degree from Yale University in 1899, he went on to establish a successful career in the lumber and railroad industries. In 1912, at the age of 35, Goodyear succeeded his father, Charles W. Goodyear, as a director of The Buffalo Fine Arts Academy. He eventually went on to be appointed the first president of The Museum of Modern Art in 1929, but not before kindling a long-standing interest in sculpture-oriented exhibitions and collecting in Buffalo.
To Goodyear, work created by living artists was a reflection of life—a living art. He lived his own life surrounded by the art he loved. During the 1920s, he became increasingly interested in collecting. He made several trips to Europe to visit galleries and artists and to acquire works of art; it was during this time that his collecting interests turned to works on paper and sculpture, which were, historically, less collected than painting. Sculpture became Goodyear's passion and, during his time at The Buffalo Fine Arts Academy, he initiated and organized (with the assistance of Anna Glenny Dunbar, then "honorary curator of sculpture") three groundbreaking monographic exhibitions—Exhibition of the Work of the Eminent Jugoslav Sculptor Ivan Mestrovic, 1925; Exhibition of Sculpture and Drawings by Aristide Maillol, 1925–1926, 1925; and Sculpture by Antoine Bourdelle, 1926—followed by a comprehensive exhibition of modern European sculpture in 1927. Goodyear placed the museum on the map as a sculptural mecca by presenting some of the finest examples of sculpture being executed at the time. Congruently, Goodyear continued to collect and, in turn, acquire works for the museum. Some of his first gifts to the museum were sculptures by Emile Antoine Bourdelle (French, 1861–1929), Wilhelm Lehmbruck (German, 1881–1919), Frank Dobson (British, 1888–1963), and Aristide Maillol (French, 1861–1944). Even after Goodyear's departure from Buffalo, his generosity continued.
Presented in conjunction with The Long Curve: 150 Years of Visionary Collecting at the Albright-Knox Art Gallery, Living Art: A. Conger Goodyear and Sculpture presented 35 sculptures and works on paper by 19 artists, gifted or bequeathed to the museum by Goodyear between 1926 and 1970. The exhibition also featured a small selection of archival material from the G. Robert Strauss, Jr. Memorial Library and Albright-Knox Archives. 
This exhibition was organized by Curator for the Collection Holly E Hughes.
Exhibition Sponsors

This exhibition was presented by First Niagara. Additional support was provided by Agnes Gund.