The Impermanent Collection: The Room of Contemporary Art, 1939–1971
Friday, November 4, 2011–Sunday, March 4, 2012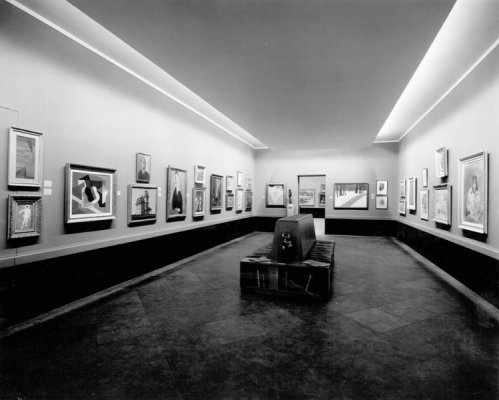 1905 Building
"This room means the resurrection of the Gallery."
– A. Conger Goodyear
On January 4, 1939, more than 200 guests gathered at Buffalo's Albright Art Gallery, as the museum was then known, to witness firsthand the civic unveiling of the Room of Contemporary Art. Functioning as someplace more than simply an exhibition space, the Room was conceived with the primary aim to present "a new opportunity to see and appraise, to study and understand, what the modern artist is accomplishing."
By physically altering the area comprising what was once Gallery 4, and, in turn, by reinvigorating it, the champions of the Room transformed it into a site that would be devoted solely to the continuous but rotating presentation of new art. What is more, it would also serve as an experimental venue where the museum's collecting strategy would be forever reenvisioned and reaffirmed. All told, the establishment of the Room took on epic significance, whereby, in one bold act, the once "stagnant" Albright Art Gallery was "resurrected," and the museum placed irrefutably "by right and its own pictures in the very frontline of modern collections"—a reputation it upholds to this day.
Presented in conjunction with The Long Curve: 150 Years of Visionary Collecting at the Albright-Knox Art Gallery, this installation of original letters, photographs, publications, and other documents drawn from the Albright-Knox Archives told the story of the Room of Contemporary Art. More broadly, it celebrates the individuals who contributed to the advancement of the radical aspirations set forth in its formation and, most importantly, it calls attention to the many "daring" and "fearless" acquisitions that eventually entered the museum's collection via the aegis of the Room through purchase or gift.
This exhibition was organized by Head of Research Resources Susana Tejada.
Exhibition Sponsors

This exhibition is presented by First Niagara. Additional support has been provided by Agnes Gund.