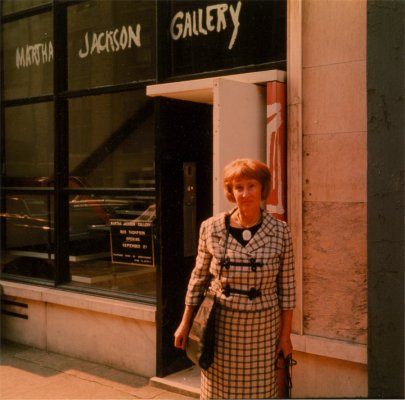 Until she opened her New York gallery in the fall of 1953, Buffalo native Martha Jackson aspired to be a practicing artist. Eventually she realized that her own talents lay more in the recognition and promotion of others' artistic achievements, and that she could be more influential as a dealer. The prospect of owning a gallery appealed to her for a number of reasons: as a business proposition, as a way to help fellow artists, and as a way for her to interact and live with art.
The Martha Jackson Gallery represented mainly American artists during its inaugural year, but by its second, following a trip Jackson took to Europe, its roster became more international. Between 1953 and 1969, Jackson offered New York debuts to noteworthy artists such as Karel Appel, Billy Al Bengston, Paul Emile Borduas, Sam Francis, Barbara Hepworth, Paul Jenkins, Alfred Jensen, Morris Louis, Marino Marini, Louise Nevelson, William Scott, and Antoni Tàpies.
Jackson preferred long-term relationships with her artists. If she conceded a business philosophy, it was decidedly pro-artist: an equitable model designed to benefit both parties. Contracts were generally pro forma, and on occasion she would exhibit an artist, or a group of artists, if the opportunity might bring greater recognition to the gallery. Her early sponsorship of the Gutai group, in 1956 and 1958, is a case in point, as are her subsequent collaborations with Allan Kaprow on New Forms—New Media I & II, 1960, and Environments—Situations—Spaces, 1961. She was also at the forefront of several movements in art. In 1960 she was one of the earliest presenters of Junk art and gave John Chamberlain his first major show. In 1965 she held the first exhibition of Op art.
Beginning in 1944, when she accepted Director Andrew C. Ritchie's invitation to join the Albright Art Gallery's Advisory Council, Jackson maintained a fruitful relationship with the museum. Over the years, notable paintings and sculptures by Francis, Adolph Gottlieb, Jenkins, Jensen, Alfred Leslie, Nevelson, Ben Nicholson, Larry Rivers, David Smith, and many others entered the collection, in no small measure due to her perseverance. Jackson tirelessly negotiated on the museum's behalf by making sure that its primary patrons, as well as its directors, were given first dibs on the best works, and by offering them significant discounts whenever possible.
At the time of her death, Jackson's own collection of postwar art had grown substantially. In 1974, David and Becky Anderson—Jackson's son and daughter-in-law—donated 11 paintings, ten sculptures, and 23 works on paper (totaling 44 works by 40 artists) from Jackson's collection to the Albright-Knox. Many of the chosen works of art were personal gifts from artists Jackson had known, represented, and befriended.
Last updated 2019