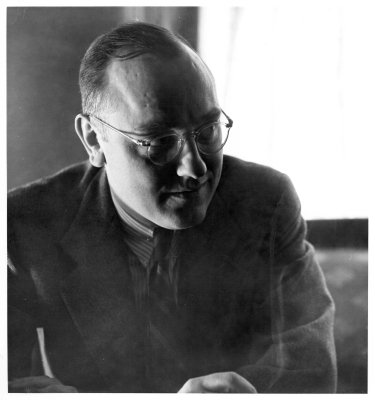 Dr. Andrew C. Ritchie, a distinguished teacher, scholar, leading authority on English medieval and 18th-century art, and museum administrator, became director in 1942, officially assuming the role on July 1, 1942, and serving in the position through January 1, 1949. Undismayed by wartime restrictions—including a skeleton staff, insufficient operating funds, and a limited exhibition program—Ritchie not only continued normal activities at the museum but also organized new initiatives around the war effort, including programs for members of local military production plants and military units, night classes at the Albright Art School, and a series of civic concerts and dances.
The exhibitions organized during his tenure included those focused on the fine arts—including Charles Burchfield's first major retrospective in 1944, Maillol Memorial Exhibition in 1945, and Contemporary British Painting in 1946—as well as those related to the nation's participation in the war, including 1942's Army P-39 Airacobra Show. At this time, the museum added notable works to its collection by artists including Milton Avery, Jacques-Louis David, Stuart Davis, Edgar Degas, Paul Gauguin, Juan Gris, Vassily Kandinsky, Piet Mondrian, Georges Seurat, Yves Tanguy, and Edouard Vuillard. Possibly the greatest single gift during Ritchie's tenure came in 1945 with the presentation of five 18th-century English masterpieces by Thomas Gainsborough, William Hogarth, Sir Thomas Lawrence, Joshua Reynolds, and George Romney by members of the Knox family.
From July 1945 to January 1946, Ritchie took a leave of absence from the museum to aid in the recovery of looted art as Chief of the Fine Arts, Monuments, and Archives Section and Representative Commanding General for the United States Forces in Austria. In this role, he was responsible for the restitution of works of art and furniture taken during the war for Adolf Hitler's collection. For these achievements, he received the Cross of the French Legion of Honor.
Before leaving Buffalo to become the Director of the Department of Painting and Sculpture at the Museum of Modern Art in New York in January 1949, Ritchie helped organize the first two catalogues of the museum's collection: Catalogue of the Paintings and Sculpture in the Permanent Collection and Catalogue of Contemporary Paintings and Sculpture: The Room of Contemporary Art Collection.
Last updated 2019