Sweet Dreams, Baby! Life of Pop, London to Warhol
Friday, May 31, 2013–Sunday, September 8, 2013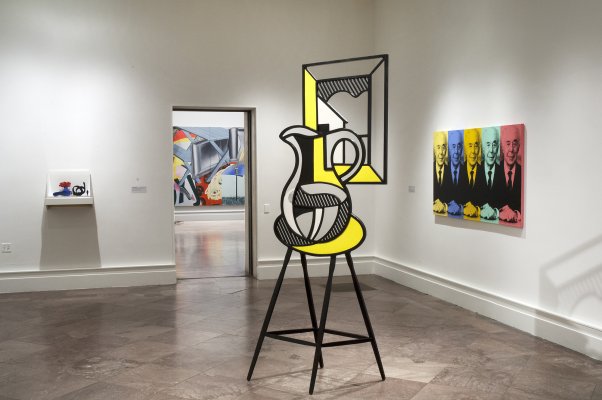 1905 Building
From the late 1950s to the late 1960s, a small, yet influential, group of American artists rejected the expressive canvases of Abstract Expressionism in favor of imagery taken from the world around them. Pop artists were influenced by the mass media and other increasingly commercial aspects of American society, and used a wide range of techniques, mediums, and subjects often excluded from the realm of fine art. Often transforming widely familiar photographs, icons, and styles into ironic visual artifacts, Pop art—with an emphasis on literalism, recognizable imagery, and mechanical methods of production—had a tremendous impact on the art world.
The Albright-Knox was at the forefront of these developments, collecting a core group of works by Pop art's pioneers—Roy Lichtenstein (American, 1923–1997), Claes Oldenburg (American, born Sweden, 1929), James Rosenquist (American, born 1933), Andy Warhol (American, 1928–1987), and Tom Wesselmann (American, 1931–2004). Many of these works were acquired by the museum during the height of the movement, between 1962 and 1965, and are now considered icons of the collection.
Life of Pop was the first comprehensive survey of the Albright-Knox's expansive holdings by this important group of artists. This exhibition offered an in-depth look at rarely seen works from the museum's Pop art collection, while providing a historical analysis of the movement's influences, key contributors, techniques, themes, trends, and legacy. Beginning with select works by artists associated with the British Independent Group, a 1950s precursor to Pop art, the exhibition also traced the bridge from Abstract Expressionism to Pop's explosive, colorful, and witty portrayals of the modern world. Transitional works by the painters Jasper Johns (American, born 1930) and Robert Rauschenberg (American, 1925–2008)—who incorporated elements of everyday life with a more gestural, painterly approach, and included found materials on their canvases—were also featured. Their influence paved the way for Pop art's reconceptualization of ephemeral objects and recognizable symbols. In total, this exhibition featured more than 50 works in all media.
This exhibition was organized by Albright-Knox Curator for the Collection Holly E. Hughes.
Exhibition Sponsors

Support for the Albright-Knox Art Gallery's collection-based exhibitions and installations was generously provided, in part, by The Seymour H. Knox Foundation, Inc. and The Margaret L. Wendt Foundation.