Press Kit: Public Art Initiative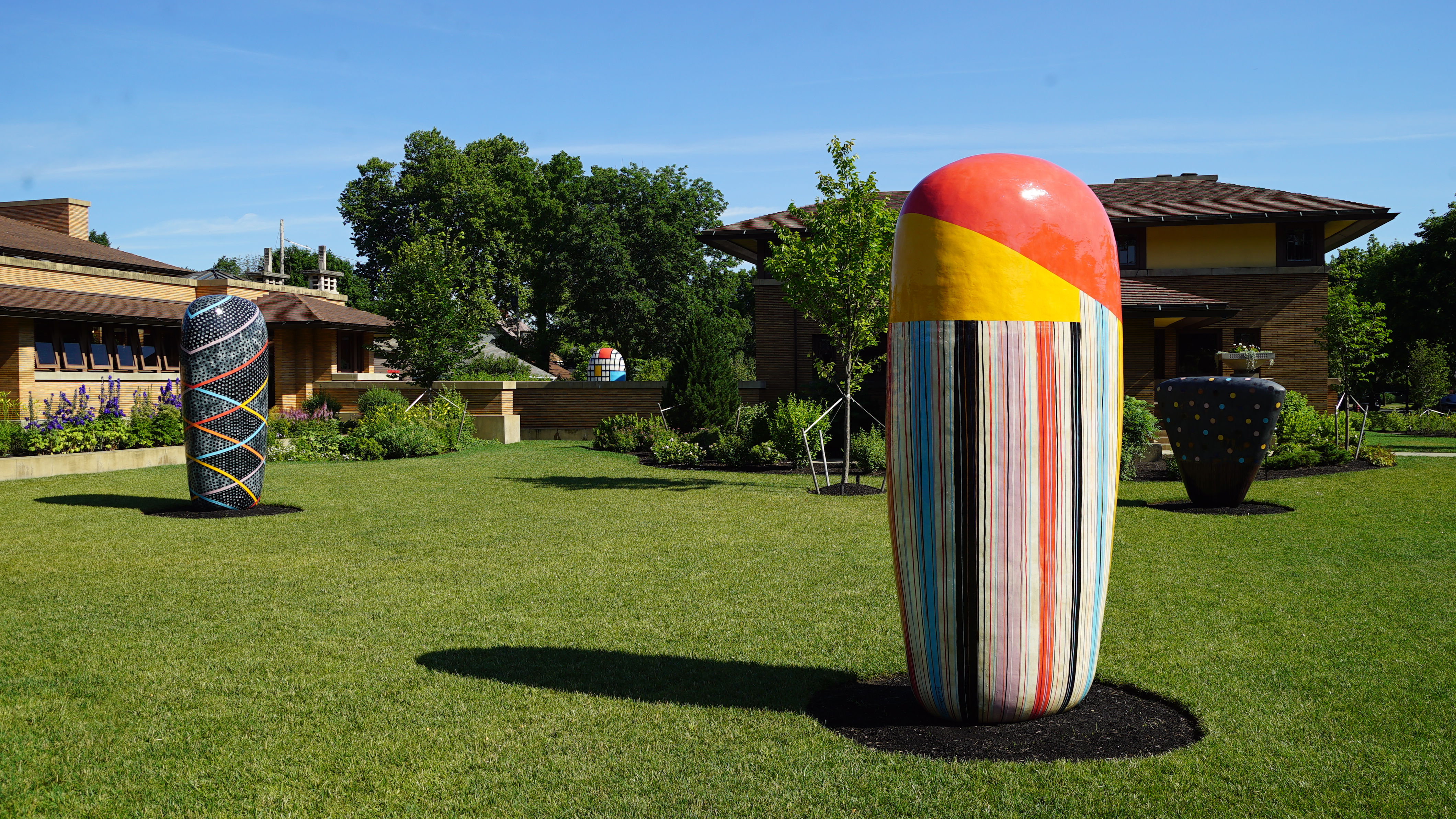 The Buffalo AKG Art Museum's Public Art Initiative was born in 2013 out of a partnership between the museum and Erie County, soon after joined by the City of Buffalo. Since then, in more than 40 murals, installations, residencies, and works of sculpture, we have sought to empower artists, inspire viewers, and strengthen a sense of our shared landscape with art that reflects the beauty and vitality of the many communities that shape it.
Through partnerships, the museum fosters work by local groundbreakers and international icons alike, individuals and collectives who are innovating in their practices as they reach out to bring the community in.
We seek to make Western New York an internationally recognized hub of public art, to transform the lives of our neighbors through participation in artmaking, and, project by project, to be transformed ourselves as we become your Buffalo AKG Art Museum.
Press Releases
Artist Bunnie Reiss Returns to Buffalo for New Mural at Joe's Deli
May 9, 2022
D'Youville and Public Art Initiative Partner on Mural for New Health Professions HUB
August 4, 2021
Works, from Home, a Mural Project from the Albright-Knox Public Art Initiative, Now Installed
June 10, 2021
Colorful New Mural Planned for 201 Ellicott Project
June 7, 2021
Artists to Begin New Murals at DL&W Terminal
June 3, 2021
Public Art Initiative Announces Springville Residency for Artist Bryan Metzdorf
September 18, 2020
Public Art Initiative Announces New Edreys Wajed Mural at Say Yes Buffalo
September 10, 2020
Buffalo Artist James Cooper III Creates New Mural Honoring John E. Brent
August 20, 2020
Cobblestone District Business Group Partners with Albright-Knox and NFTA to Begin New Murals at DL&W Terminal
July 30, 2020
Buffalo Artist James Cooper III to Produce New Mural Honoring John E. Brent
July 9, 2020
Buffalo Artists Mickey Harmon and Ari Moore to Produce New Mural Celebrating LGBTQ+ Community
July 1, 2020
Major Jun Kaneko Public Art Exhibition Installed at Frank Lloyd Wright's Martin House
June 26, 2020
Works, From Home, A New Mural Project from the Albright-Knox Public Art Initiative
April 14, 2020
Major Jun Kaneko Public Art Exhibition at Frank Lloyd Wright's Martin House
February 27, 2020
Shark Girl Heading to the Spa
October 3, 2019
Artist Hillary Waters Fayle Begins New Mural at 244 Dewitt Street
August 30, 2019

Public Art Initiative Installs Sculpture by Aakash Nihalani at Five Points Bakery
August 5, 2019
Massive New Mural Depicting Mark Twain and John Lewis Set to Begin on Hertel Avenue
July 18, 2019
World-Renowned Artist Logan Hicks Completes New Mural in Buffalo
July 16, 2019
World-Renowned Artist Logan Hicks to Begin New Mural in Buffalo
June 27, 2019
Buffalo Artist Nicole Cherry to Begin New Mural for Albright-Knox's Public Art Initiative
June 6, 2019
Felipe Pantone Completes 2019's First Work of AK Public Art at Town Ballroom
May 21, 2019
Albright-Knox's Public Art Initiative Installs Colorful New Sculpture in Bassett Park
October 26, 2018
Albright-Knox's Public Art Initiative Unveils New Mural at 1131 Broadway
September 25, 2018
Albright-Knox's Public Art Initiative Unveils Massive Mural in Downtown Buffalo
September 6, 2018
Albright-Knox, Richardson Partnership Brings Significant Work of Art Into New Public Space
July 9, 2018

Albright-Knox's Public Art Initiative Begins New Mural on Fillmore Avenue
May 30, 2018
Public Art Initiative to Begin New Countywide Project by Artist Stephen Powers
April 25, 2018
New Public Art Initiative Mural Celebrates Hispanic Heritage
August 17, 2017
Public Art Initiative Creates Welcome Wall
July 26, 2017
Public Art Initiative Unveils New Mural at Joe's Deli
June 23, 2017
Public Art Mural and Museum Exhibition by Artist Shantell Martin
December 13, 2016
Albright-Knox Public Art Initiative Blankets Buffalo Buildings in Color
August 16, 2016
Albright-Knox Announces New Public Art at the NFTA Allen/Medical Campus Station
July 14, 2016
Albright-Knox Announces New Mural at 74 Jewett Avenue
July 14, 2016
Albright-Knox Unveils New Mural at the Buffalo Center for Arts and Technology
July 14, 2016
Albright-Knox Art Gallery Announces New Public Art at Tifft Nature Preserve
June 30, 2016
Albright-Knox's Public Art Initiative Will Add New Mural at 710 Main Theatre
May 10, 2016
Albright-Knox Seeks Fabric Donations for Public Art Installation
April 4, 2016

Public Art Set to Bloom Across Erie County: Rewilding New York (Community Seed Stations) will Disperse Native Wildflower Seeds Across WNY
August 10, 2015
Albright-Knox Seeking Shirt Donations for New Public Art Project
August 4, 2015
Public Art Abounds at Canalside with Addition of Plensa Sculpture
May 5, 2015
Shark Girl Prepares for Her Summer Close-Ups!
April 14, 2015
Partnership Brings Art Outreach to Students across Erie County
November 12, 2014
Erie County: You Are Beautiful
September 4, 2014
New Public Artwork Unveiled at Canalside, More Public Art Projects Coming Soon
August 27, 2014
Albright-Knox Names Aaron Ott Public Art Curator
March 14, 2014