Janne Sirén, PhD
Peggy Pierce Elfvin Director
Dr. Janne Sirén joined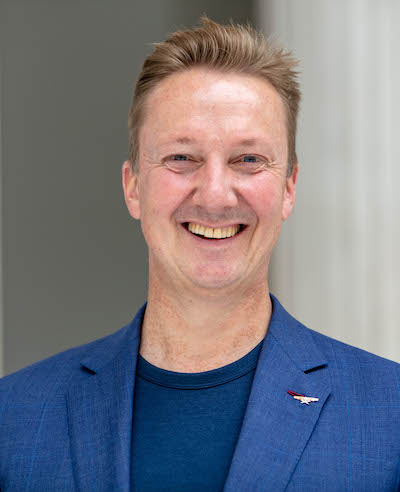 the Buffalo AKG Art Museum as the Peggy Pierce Elfvin Director in April 2013. Over the course of a decade of his leadership, the museum has embarked upon the most significant campus expansion and development project in its 160-year history, which will culminate in the opening in spring 2023 of the new Buffalo AKG Art Museum, designed by OMA/Shohei Shigematsu. Under Sirén's stewardship, the museum has raised nearly $230 million to fund the construction of the renewed and expanded campus, the largest cultural fundraising campaign in the history of Western New York.
A passionate advocate for the active role of the museum and the arts in shaping and supporting diverse communities, Sirén launched the museum's pioneering Public Art Initiative in 2013. This innovative partnership between the museum, local government bodies, and private individuals and businesses has been hailed as a national model for museums and their communities to sustainably create and install public art and has generated more than forty public artworks across Western New York.
Over the course of his tenure, Sirén has initiated several major exhibitions at the museum, including We the People: New Art from the Collection (2018–19); Out of Sight! Art of the Senses (2017–18); Picasso: The Artist and His Models (2016–17); Monet and the Impressionist Revolution, 1860–1910 (2015–16); and Anselm Kiefer: Beyond Landscape (2013–14). In 2022, along with Gabriella Belli, Director of the Fondazione Musei Civici di Venezia, Sirén co-organized Anselm Kiefer: Questi scritti, quando verrano bruciati, daranno finalmente un po' di luce, a new exhibition of Kiefer's work in Venice's Palazzo Ducale.
Prior to joining the Buffalo AKG, Sirén served as Director of Finland's Helsinki Art Museum—one of the largest cultural institutions in the Nordic region—overseeing an active program of exhibitions, acquisitions, and museum development. In this role, he was a member of Helsinki's Tourism Advancement Group, representing the cultural and museum field and helping to strengthen the tourism industry in Helsinki while identifying strategic principles for future development. Sirén served as Director of the Tampere Art Museum in southern Finland from 2004 to 2007. He has worked in the Department of Art History at The Hebrew University of Jerusalem, teaching courses in modern and contemporary art, aesthetics, museology, and critical theory. Sirén received his PhD from the Institute of Fine Arts at New York University in 2001.