Aaron Ott
Curator of Public Art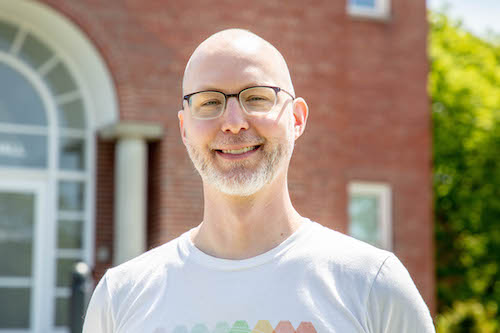 Aaron Ott has been the Curator of Public Art since the Public Art Initiative began in 2013, overseeing more than 40 public art projects, installations, and exhibitions. Ott champions work that engages its audience and is responsive to its space. He envisions public art as a holistic enterprise, from conception to installation. Making art is an opportunity to build relationships with local partners, to foster the talents of makers of all kinds, and to create beautiful and provocative places where people can come together.
Ott co-organized Anthony McCall: Dark Rooms, Solid Light, 2019, at the Albright-Knox and curated or co-curated several other exhibitions at Albright-Knox Northland and elsewhere since the closing of the Elmwood Avenue campus, including Open House: Domestic Thresholds by Heather Hart, Edra Soto, and Rodney Taylor, Swoon: Seven Contemplations, and The Space Between: Frank Lloyd Wright | Jun Kaneko, a collaboration with Frank Lloyd Wright's Martin House. Hervé Tullet: Shape and Color brought six resident artists to Albright-Knox Northland to share the process of artmaking with visitors of all ages, and he most recently welcomed two dynamic local artists and creators, Aitina Fareed-Cooke and Edreys Wajed, to curate In These Truths, the final exhibition at Albright-Knox Northland.
Ott holds a BFA in Fine Art Photography from the University of Cincinnati and a Master's degree in Museum and Exhibition Studies from the University of Illinois at Chicago.
To get in touch about a potential public art project, please contact aott@buffaloakg.org.