Spotlight on the Collection—Artists in Depth: Picasso, Braque, Léger, Delaunay
Friday, January 21, 2011–Sunday, June 5, 2011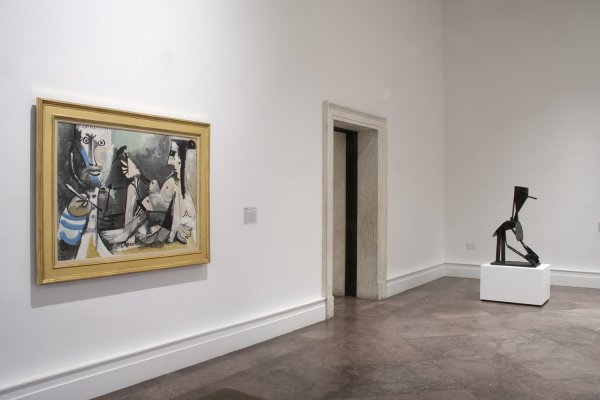 1905 Building
Spotlight on the Collection—Artists in Depth: Picasso, Braque, Léger, Delaunay, presented by The Buffalo News, was the first in a new series of ongoing exhibitions drawn from the Albright-Knox's collection focusing on important artists whose works the museum has acquired in depth. The series reached beyond the museum's well-known masterworks to highlight a broad range of paintings, sculptures, and works on paper from selected artists' careers. Many of the works are less known to Albright-Knox audiences, not having been exhibited in some time, but, seen together, they will bring context and greater understanding to the chosen artists' practices and their art-historical legacies.
With this first exhibition, the Albright-Knox returned to its modernist roots with a complete display of all works in the Collection—more than 75 objects—by four masters: Pablo Picasso (Spanish, 1881–1973), Georges Braque (French, 1882–1963), Fernand Léger (French, 1881–1955), and Sonia Delaunay (French, born Russia, 1885–1979). All were early 20th century pioneers of abstraction—Picasso and Braque joined forces as the founders of Cubism, Delaunay's bright colors and geometric forms presaged geometric abstraction, and Léger's cylindrical forms interpreted the mechanical age and predated Pop art.
Later exhibitions in this series highlighted various groupings, themes, and individual artists, all with the aim of examining the richness and depth of the Albright-Knox's collection through new perspectives.
This exhibition was organized by Curator Heather Pesanti and Curatorial Assistant Ilana Chlebowski.
Program Sponsors

The Spotlight on the Collection series was presented by The Buffalo News.