Spotlight on the Collection—Artists in Depth: Arp, Miró, Calder
Friday, March 25, 2011–Sunday, April 15, 2012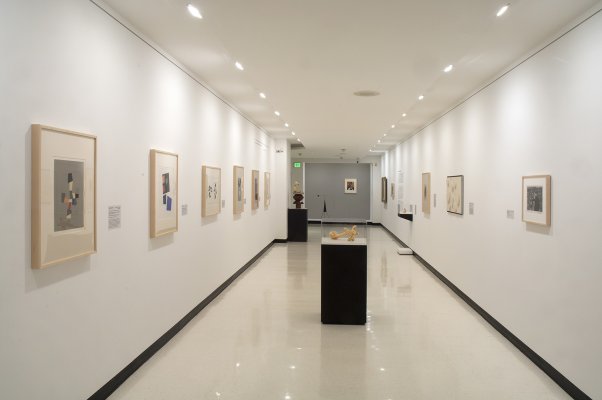 Clifton Hall Link
Spotlight on the Collection—Artists in Depth: Arp, Miró, Calder, presented by The Buffalo News, was the second installment in a new series of ongoing exhibitions drawn from the Albright-Knox's collection centering on important artists whose works the Albright-Knox has acquired in depth. This series aimed to reach beyond the museum's celebrated masterworks to highlight a broad range of paintings, sculptures, and works on paper from selected artists' careers. Many of the works on view were less known to Albright-Knox audiences, not having been exhibited in some time; seen alongside the museum's more well-known works, they brought context and greater understanding to the chosen artists' practices and their art-historical legacies.
Featuring a comprehensive array of works in all mediums by Jean (Hans) Arp (French, born Germany, 1886–1966), Joan Miró (Spanish, 1893–1983), and Alexander Calder (American, 1898–1976), this exhibition highlighted the Albright-Knox's extensive collection of the work of these three modern masters, who pushed color, line, and form beyond convention.
Arp, Miró, and Calder converged early in their artistic careers. Calder, who left New York for France in 1926, first encountered Arp and Miró in Paris, an inspirational destination for artists and a vibrant center of music and dance. Paris was also the creative center for Surrealism—an art movement stressing the subconscious significance of imagery—and Surrealist theory in the visual arts, politics, and society. Calder, though not closely associated with Surrealism, was undoubtedly influenced by the movement's key players during his time in Paris. It was Arp, in fact, who named Calder's static constructions "stabiles," and, in 1931, the Surrealist Marcel Duchamp suggested Calder call his whimsical, kinetic works "mobiles." But Calder developed the closest friendship with Miró; the two bonded over discussions about Surrealist theory, and through shared interests and influences. These relationships, formed during a period in art history often referred to as "the greatest laboratory of modern art," resulted in some of the most innovative visual iconographies of the 20th century.
This exhibition traveled to the Tampa Museum of Art and the Boise Art Museum.
Later exhibitions in this series highlighted various groupings, themes, and individual artists, all with the aim of examining the richness and depth of the Albright-Knox's collection through new perspectives.
This exhibition was organized by Curator for the Collection Holly E. Hughes.
Exhibition Sponsors

The "Spotlight on the Collection" series was presented by The Buffalo News.