New Room of Contemporary Art: Photographs of Bernd and Hilla Becher
Wednesday, July 31, 1996–Sunday, November 3, 1996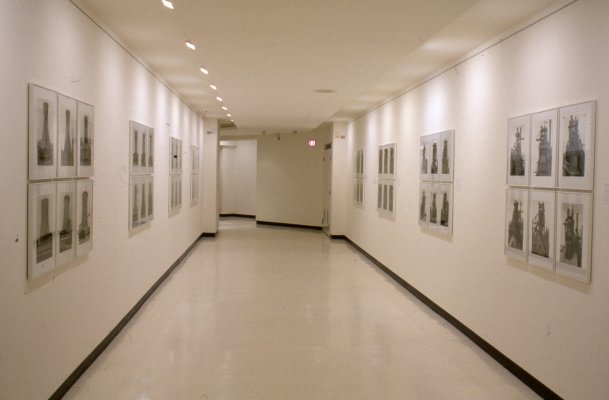 Clifton Hall Link
This exhibition was the first opened in conjunction with the New Room of Contemporary Art series, featuring the photographs of industrial facades by Bernd and Hilla Becher, taken from 1970 to 1992. The Bechers are best known for their completely "objective" black-and-white photographs, which reflect their cool, rigorous approach and document the achievements of everyday architecture. The Bechers' photographs of water towers, blast furnaces, and gas tanks are commonly exhibited in groupings that the artists specifically arrange. It is their organization of the thousands of images into typologies that encourages further attention to the subtlety and variation of similar structures.
About the Room of Contemporary Art
The concept of the New Room of Contemporary Art echoes the mission and philosophy of its predecessor, the Room of Contemporary Art. Established in 1939, the Room was envisioned as a both a physical site devoted solely to the continuously rotating presentation of new art within the museum and a means to reinvigorate and reaffirm the museum's dedication to collecting the art of its time.
It was managed by a special independent committee initially consisting of Buffalo attorney Philip J. Wickser (who helped to conceive the room and who drafted its charter), Seymour H. Knox, Jr., Albright Art Gallery Director Gordon B. Washburn, and artists Charles E. Burchfield and Anna Glenny Dunbar, both of whom called Buffalo home. Through the Room of Contemporary Art fund, the museum acquired Fernand Léger's La fume (Smoke), 1912; Joan Miró's Carnaval d'Arlequin (Carnival of Harlequin), 1924–25; and Henri Matisse's La Musique (Music), 1939, among many others.
This exhibition was organized by Senior Curator Cheryl Brutvan in conjunction with the New Room of Contemporary Art series.