New Room of Contemporary Art: Cathy De Monchaux
Saturday, July 22, 2000–Sunday, September 10, 2000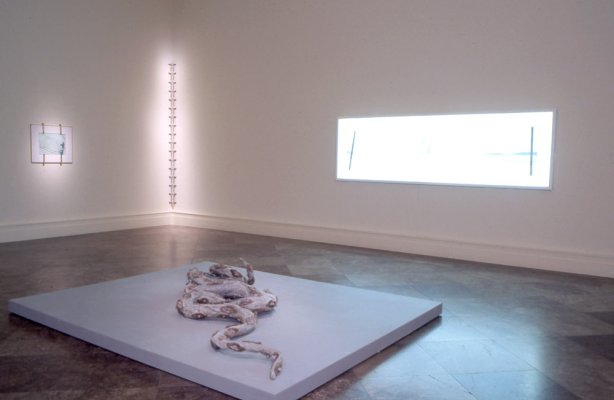 1905 Building
British artist Cathy de Monchaux installed a series of sculptures that explore the tension between opposites. De Monchaux's exquisite constructions deal with gender, and blur the boundaries between the beautiful and the repulsive, the hard and the soft, the functional and the decorative. Her seminal shapes incorporate both machine-made and organic materials, including glass, rusted steel, brass, paper, leather, and concrete. A color brochure accompanied the exhibition, with an essay by Assistant Curator Claire Schneider.
Made of luxuriously seductive materials — mink, leather brass, intricate stitching, chalk, rusted steel, and the occasional photograph — her challenging sculptures refer to both the physical and emotional vulnerability of human experience. In doing so, these delicate yet brutal wonders draw on imagery related to the body, religion, and sexuality. While indebted to the history of representation and with symbolic references that bring to mind everything from Gothic Art, Surrealism, Minimalism, social taboos, and religious relics, to feminism de Monchaux's primary goal is to illicit reactions from her viewers and start them on their own internal discussion.
This exhibition was organized by Assistant Curator Claire Schneider in conjunction with the New Room of Contemporary Art series.
About the New Room of Contemporary Art
The concept of the New Room of Contemporary Art echoes the mission and philosophy of its predecessor, the Room of Contemporary Art. Established in 1939, the Room was envisioned as a both a physical site devoted solely to the continuously rotating presentation of new art within the museum and a means to reinvigorate and reaffirm the museum's dedication to collecting the art of its time.
It was managed by a special independent committee initially consisting of Buffalo attorney Philip J. Wickser (who helped to conceive the room and who drafted its charter), Seymour H. Knox, Jr., Albright Art Gallery Director Gordon B. Washburn, and artists Charles E. Burchfield and Anna Glenny Dunbar, both of whom called Buffalo home. Through the Room of Contemporary Art fund, the museum acquired Fernand Léger's La fume (Smoke), 1912; Joan Miró's Carnaval d'Arlequin (Carnival of Harlequin), 1924–25; and Henri Matisse's La Musique (Music), 1939, among many others.