Angela Grauerholz: Sententia I to LXII
Saturday, July 10, 1999–Sunday, September 12, 1999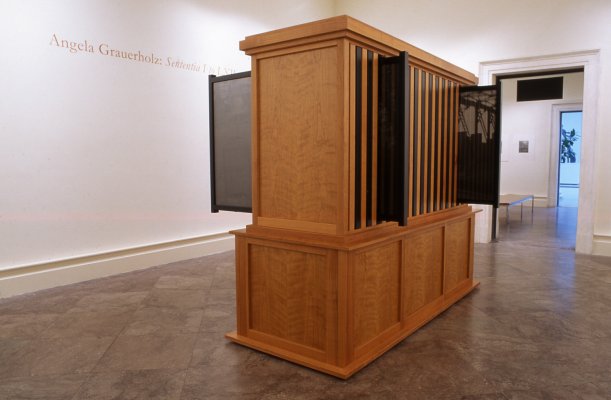 1905 Building
Angela Grauerholz created her own archive: a tomb-size wooden cabinet that houses 62 large-scale, black-and-white photographs. In contrast to Éclogue or Filling the Landscape, 1995, an earlier archival piece that was only accessible to the public by appointment, all museum visitors were able to slide open Sententia I to LXII's doors and view these places that Grauerholz obsessively documented over the years.
Grauerholz's images are marked by ambiguous, dream-like spaces. Her large compositions are often of intermediate places: windows and doors, hotel lobbies, people walking, train tracks, libraries, and indistinguishable places in the landscape. To accentuate the "in-between" quality in her work, Grauerholz lengthens photography's decisive moment. Photographing with a hand-held camera in low-light situations allows her to extend the moment the shutter is open. The blur thus created, the snapshot effect, and the painting-size prints enable these images to investigate memory. Grauerholz says, "They are the images that we have from our memory of what the future used to look like." Appearing to be images from the past, they play with our perception of the past, present, and future and how notions of time are as much reflections of the present as they are of their own period.
This exhibition was organized by Assistant Curator Claire Schneider in conjunction with the New Room of Contemporary Art series. 
About the New Room of Contemporary Art
The concept of the New Room of Contemporary Art echoes the mission and philosophy of its predecessor, the Room of Contemporary Art. Established in 1939, the Room was envisioned as a both a physical site devoted solely to the continuously rotating presentation of new art within the museum and a means to reinvigorate and reaffirm the museum's dedication to collecting the art of its time.
It was managed by a special independent committee initially consisting of Buffalo attorney Philip J. Wickser (who helped to conceive the room and who drafted its charter), Seymour H. Knox, Jr., Albright Art Gallery Director Gordon B. Washburn, and artists Charles E. Burchfield and Anna Glenny Dunbar, both of whom called Buffalo home. Through the Room of Contemporary Art fund, the museum acquired Fernand Léger's La fume (Smoke), 1912; Joan Miró's Carnaval d'Arlequin (Carnival of Harlequin), 1924–25; and Henri Matisse's La Musique (Music), 1939, among many others.