Bill Viola: The Messenger
Saturday, March 15, 1997–Sunday, May 11, 1997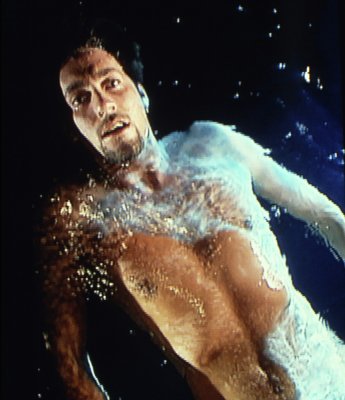 1905 Building
The Messenger, 1996, a recent video projection by Bill Viola, was one of the museum's major acquisitions of 1996. To describe this work as the simple interaction of a man in water belies its austere beauty and startling power. In it, the artist has maintained his signature ambiguity with imagery that can transcend the physical world and encourage a spiritual interpretation.
Originally commissioned in 1996 for Durham Cathedral in England, the museum's work is one of three copies of this important new video projection by one of America's most respected artists. Viola's work The Greeting was included in the Albright-Knox's special exhibition Being & Time: The Emergence of Video Projection. Unlike The Greeting, which made explicit reference to an older work from art history and to a specific passage in the Bible, The Messenger takes a more neutral approach to its elemental theme, a startlingly beautiful interaction of man and water. Although the work can be understood by anyone as a ritualized escape from drowning, it also maintains Viola's signature ambiguity between secular and theological interpretations.
This exhibition was organized by Curator Marc Mayer in conjunction with the New Room of Contemporary Art series.
About the New Room of Contemporary Art
The concept of the New Room of Contemporary Art echoes the mission and philosophy of its predecessor, the Room of Contemporary Art. Established in 1939, the Room was envisioned as a both a physical site devoted solely to the continuously rotating presentation of new art within the museum and a means to reinvigorate and reaffirm the museum's dedication to collecting the art of its time.
It was managed by a special independent committee initially consisting of Buffalo attorney Philip J. Wickser (who helped to conceive the room and who drafted its charter), Seymour H. Knox, Jr., Albright Art Gallery Director Gordon B. Washburn, and artists Charles E. Burchfield and Anna Glenny Dunbar, both of whom called Buffalo home. Through the Room of Contemporary Art fund, the museum acquired Fernand Léger's La fume (Smoke), 1912; Joan Miró's Carnaval d'Arlequin (Carnival of Harlequin), 1924–25; and Henri Matisse's La Musique (Music), 1939, among many others.