Michael Ray Charles: Paintings
Saturday, March 15, 1997–Sunday, May 11, 1997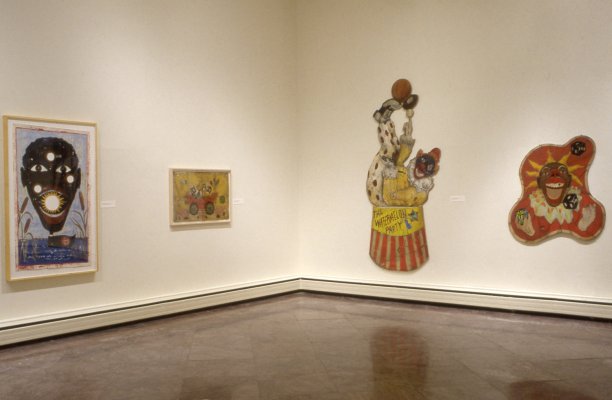 1905 Building
An emerging African-American artist residing in Austin, Texas, Michael Ray Charles's work had recently gained national attention and acclaim. This was the artist's first solo exhibition in a major museum. Charles's compositions-commentaries on race relations are known for their subversion of historical and stereotypical representations of African-Americans. These images are not only inspired by characters once used in commercial advertising but also by personal experience. Charles reinvents the context to encourage an examination of our own potentially racist attitudes.
This exhibition was organized by Senior Curator Cheryl Brutvan in conjunction with the New Room of Contemporary Art series.
About the New Room of Contemporary Art
The concept of the New Room of Contemporary Art echoes the mission and philosophy of its predecessor, the Room of Contemporary Art. Established in 1939, the Room was envisioned as a both a physical site devoted solely to the continuously rotating presentation of new art within the museum and a means to reinvigorate and reaffirm the museum's dedication to collecting the art of its time.
It was managed by a special independent committee initially consisting of Buffalo attorney Philip J. Wickser (who helped to conceive the room and who drafted its charter), Seymour H. Knox, Jr., Albright Art Gallery Director Gordon B. Washburn, and artists Charles E. Burchfield and Anna Glenny Dunbar, both of whom called Buffalo home. Through the Room of Contemporary Art fund, the museum acquired Fernand Léger's La fume (Smoke), 1912; Joan Miró's Carnaval d'Arlequin (Carnival of Harlequin), 1924–25; and Henri Matisse's La Musique (Music), 1939, among many others.