John Bisbee: Arc and Plume
Saturday, March 31, 2001–Sunday, June 3, 2001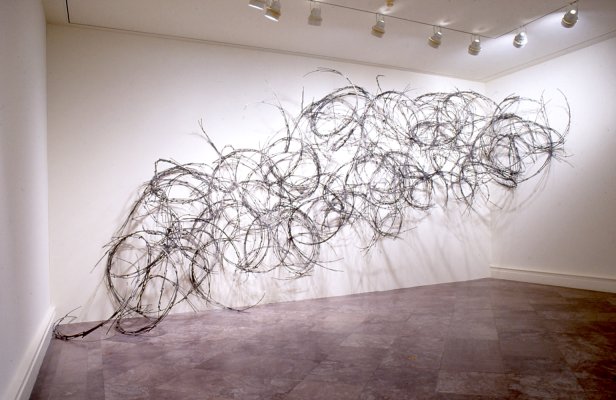 1905 Building
John Bisbee's sculptures, made exclusively of welded nails, blend elements of Surrealism and Minimalism with mystery and humor to create a truly unique and engaging sculptural vision. These elegant, abstract geometric sculptures have an organic quality to them, which is especially surprising given the industrial medium from which they are made. The combination of fine craftsmanship and sharp nails in his works has led one commentator to call them "a cross between a Faberge egg and a porcupine."
John Bisbee created a special installation for his exhibition at the Albright-Knox. The exhibition was part of the New Room of Contemporary Art series, and was accompanied by a brochure written by Curator Kenneth Wayne.
On March 31, John Bisbee conducted an artist lecture entitled "John Bisbee: Beside the Point."
This exhibition was organized by Curator Kenneth Wayne in conjunction with the New Room of Contemporary Art series.
About the New Room of Contemporary Art
The concept of the New Room of Contemporary Art echoes the mission and philosophy of its predecessor, the Room of Contemporary Art. Established in 1939, the Room was envisioned as a both a physical site devoted solely to the continuously rotating presentation of new art within the museum and a means to reinvigorate and reaffirm the museum's dedication to collecting the art of its time.
It was managed by a special independent committee initially consisting of Buffalo attorney Philip J. Wickser (who helped to conceive the room and who drafted its charter), Seymour H. Knox, Jr., Albright Art Gallery Director Gordon B. Washburn, and artists Charles E. Burchfield and Anna Glenny Dunbar, both of whom called Buffalo home. Through the Room of Contemporary Art fund, the museum acquired Fernand Léger's La fume (Smoke), 1912; Joan Miró's Carnaval d'Arlequin (Carnival of Harlequin), 1924–25; and Henri Matisse's La Musique (Music), 1939, among many others.