Being & Time: The Emergence of Video Projection
Saturday, September 21, 1996–Sunday, December 1, 1996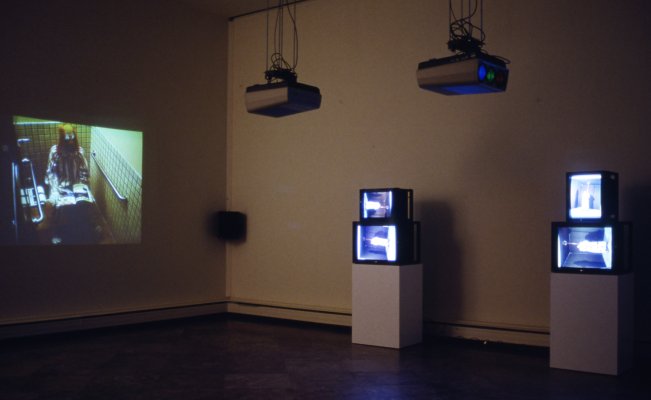 1905 Building
Being & Time: The Emergence of Video Projection featured celebrated video artists Gary Hill (American, born 1951), Bruce Nauman (American, born 1941), and Bill Viola (American, born 1951), along with then-emerging practitioners Willie Doherty (Irish, born 1959), Tony Oursler (American, born 1957), and Diana Thater (American, born 1962). Including five room-sized installations and a projected video in the form of a free-standing sculpture, this provocative exhibition provided an aesthetic experience as close to mural painting and film as to video proper. These projected video installations took video art out of the screening room and placed it in a museum setting with the fine arts of painting and sculpture.
The exhibition traveled to the Cranbrook Art Museum in Bloomfield Hills, Michigan; Portland Art Museum; and Contemporary Art Museum Houston.
This exhibition was organized by Curator Marc Mayer.
Exhibition Sponsors

This exhibition was made possible through the generous support of Delaware AV Distributors, Inc. The exhibition and its publication were also supported by grants from the National Endowment for the Arts in Washington, D.C., a Federal agency, and the New York State Council on the Arts