Over the course of Hervé Tullet: Shape and Color, six local artists, including Phyllis Thompson, will be in residence at Albright-Knox Northland creating murals that will later be installed in public locations. To celebrate these artists, we are spotlighting each one of them to talk about their practice and the ideas behind their work.
Around 2000, Thompson was visiting her mother in Philadelphia as she was preparing to transition from living on her own to living with one of her daughters. Thompson came to collect her mother's effects, things that she wanted to keep in the family. Thompson—luckily—checked under her mother's bed. What she found there were boxes: boxes of rent and mortgage receipts from when her parents lived in Washington, D.C. in the 1940s, like this was evidence of their existence and their worth in this world. And then there were boxes of photographs, old photographs—some of them peeling tintypes—of Thompson's ancestors.
"I wanted to give them a new life. Because they lived, and they were in a box, but they weren't really alive in the box," Thompson says.
Thompson's grandmother did housework, her grandfather was a farmer, but in their photographs, they could dress in fine clothes. "That's one area where they could present themselves to the world the way they wanted to be seen," Thompson says.
Thompson's people come from Maryland, towns like Seneca, Poolseville, Sugarland—names that people don't usually recognize. These were places occupied by Black families going back generations to the time when some of those people were enslaved working that same land.
"There was a sense that these are people that represent me; this is what I come from," Thompson states.
Thompson grew up in Philadelphia, but every year her family would travel back to Maryland and her grandparents' farm. For her, a city kid, it was an introduction to live chickens and cows. She remembers her mom taking her and her sister out to look for four leaf clovers, remembers her mom saying that it represented luck. Memory has imprinted on her the physical experience of being down on the ground, in the wet grass, looking. That moment in memory connects Thompson to her mother and connects her also to her mother's childhood. As a girl, did she too look down at each blade of grass in that same field, searching for luck?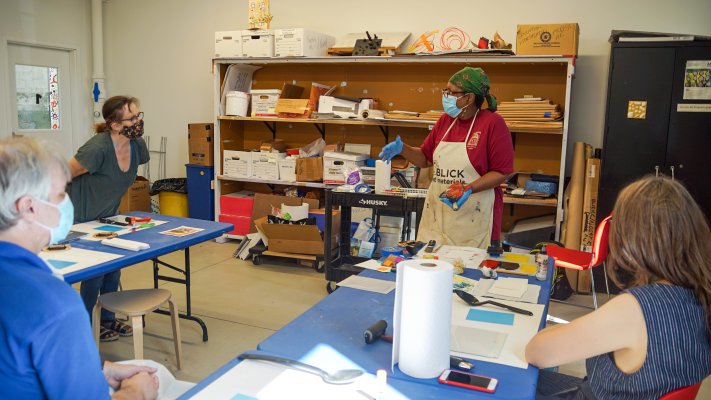 Thompson's work is about memory in another sense, as well. Her artmaking shifts our attention, asking us to value and dignify the things that, culturally, we are taught are not worth remembering. In the 1970s, Thompson was part of the conversation in New York City of women artists seeking to redefine what artwork was and how we saw it. In the art world there are fine artists and there are people who make crafts. A man who painted something that looked like a quilt was called a fine artist; a woman who made an actual quilt was thought to be something less.
Thompson remembers sitting on the porch at her family's farm watching her grandmother make little cloth circles called yo-yos, thousands of them, which she would stitch together to make a coverlet. These were practical objects, created by a woman who was trying to fulfill the functional needs of life. But in them Thompson also sees a legacy of creativity, a means to express something personal in a life of hard work. Thompson thought about the tireless, physical repetition of her grandmother's work, the motions that went into composing the literal fabrics of daily life. Those motions, Thompson abstracted and transposed into drawing.
In New York, Thompson was free to question these lines between women's work and men's art. The walking, the museums and galleries, the late nights at the print studio that turned into jaunts to the Village falafel spots: the City was abuzz with energy of creative people hustling to get by. Yet, there could be a relentlessness that accompanied life as an artist, getting by on wits and odd jobs. Thompson was also a member of the Fine Art faculty at Cornell University.
An opportunity to be a resident artist at the School of the Art Institute of Chicago found Thompson leaving New York for another city, another community. Thompson began working with fabric: sewing, drawing on the cloth, painting on the cloth, wrapping the fabric around forms. Eventually, too, she began her own family.
Life, in its way, becomes complicated. A family produces new joys and new pressures. Thompson's image-making had to compete with these needs. After years in Chicago, Thompson became a middle-school teacher in Milwaukee. She also got her PhD in Arts Education. When she came to Buffalo it was to teach in Buffalo State's Arts Education program. At the same time, she was asking herself the unavoidable questions that torture many artists: "How do I make images, but also how do I make a living?"
She grew up knowing that you didn't always get to do what you wanted to do. She says, "My dad worked in a hospital setting where I know it wasn't great for him all the time, but that's what he needed to do to provide for his family."
Thompson still teaches, but image-making once again is taking center-stage in her life. She's taking the photographs out of the box beneath the bed. "My father will always say, well, the way that you keep individuals alive is that you talk about them, and you show their photographs, and you say what they did and you say their name." Thompson is saying their names.
We invite you to come and interact with Thompson, as well as artists Max Collins and Fotini Galanes, during their residencies at Albright-Knox Northland through September 12. In order to ensure a safe environment for all, we encourage you to review our Courtesy Code and reserve your visit date and time prior to your arrival.