Over the course of Hervé Tullet: Shape and Color, six local artists, including Fotini Galanes, will be in residence at Albright-Knox Northland creating murals that will later be installed in public locations. To celebrate these artists, we are spotlighting each one of them to talk about their practice and the ideas behind their work.
"I inspire fear and cruelty." When Fotini Galanes delivers this line to a rapt audience at Buffalo's 2016 TEDx Conference it stuns. An accident in childhood left burns over ninety-five percent of Galanes's body and would almost certainly have killed her. What was at the time an experimental surgery saved her life. To do so the doctor "needed to scar me more," she says. Galanes's artwork pushes us to confront our most basic assumptions and the fears beneath them.
The scars from the burns opened her to the casual cruelty of others. In the periods immediately following each surgery, Galanes was immobilized, and it was in that time that drawing became what Galanes calls her "special power." When someone first referred to her as an artist in fifth or sixth grade, she states, "I felt like that covered me. I felt like I wore that, and I was very comfortable in it."
Galanes comes from a strongly matriarchal Greek family, the women of which encouraged her artmaking, predicting that her work would hang in museums one day. It was one of these matriarchs—Aunt Dina—who helped Galanes out of a life married to the restaurant business. Hopping onto a plane with her portfolio, Galanes and Aunt Dina travelled from Buffalo to Brooklyn and then to an interview at Pratt Institute. Galanes was enrolled that summer.
New York City was a culture shock. "I'm a little girl from Williamsville," Galanes states. "I walked into my dorm room, and I'm wearing pink corduroy pants and an alligator shirt. And my four roommates are, in 1983, shaved, tattooed, pierced, with Mohawks. And I'm thinking, 'Oh, my God, I'm not an artist.'"
But there was no going back. Her parents loved and supported her artmaking but thought she was abandoning them and her father's restaurant. They didn't understand her. Galanes had to figure out how to make a home for herself in a completely new environment—and how to pay for it.
When the Greeks who ran the diner across the street from Pratt—Mike's—heard Galanes's name, they hired her. Working there paid for art supplies and fed her, and, in a funny way, working in diners laid the foundation for her love of artmaking in public. The interactions were always fascinating, and she came to thrive on the element of performance that came from cooking in front of an audience. Galanes isn't fearless, but life had prepared her to face her fears and move through them.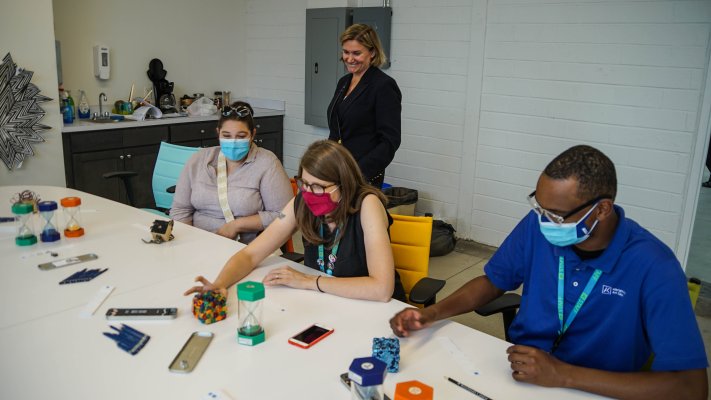 After Pratt, Galanes returned to Buffalo to work as a freelance illustrator. She also began volunteering at the Women & Children's Hospital of Buffalo to give back to a place she had spent so much time as a child. After a year, when asked to paint a mural, Galanes readily agreed—even if she didn't know how. At first, she painted at night when she could figure it out with no one watching. But when the kids would wake up in the morning, they would give her an earful of comments and criticism. She loved the pushback, and soon was painting in the busiest parts of the day, with children and staff watching.
Galanes recognized how important the murals were, and how seriously the children took them. Sometimes the hospital was the last space the children in it would see. Galanes was painting a landscape with a giraffe when a young girl from the oncology ward, Brianna, told her she didn't like the mural: there were no bugs in it. Galanes noticed that girl had stickers of bugs on her IV pole, images of bugs on her clothes, bug plush toys, and had made drawings of bugs.
"When children have lost control of their lives, they attach themselves to something. And she attached herself to bugs—the bigger and the scarier, the better," Galanes says. "And the control she had was—she would show you a bug and you'd get scared, and she liked that response." Together, the two researched the kinds of bugs that lived with giraffes, and Brianna fell in love with the dung beetle, which found its way into the mural. Now, each mural Galanes makes for a children's hospital has a bug in it—for Brianna.
Galanes's interest in abstraction also began in these murals: in the blobs of color that made up the background layers of her paintings. In a coffee shop one day, she recognized something in these shapes. She told the TEDx audience: "I saw beauty and deformity in this image. They weren't separate." By moving past representation, she could ask questions that a viewer feels first before they think.
My Mark Matters, the program Galanes founded in 2011, continues the project of dignifying and revealing the inherent value of people through art. It began as an exercise to show the amount of attention that went into a one-inch square of one of Galanes's drawings and a way to demonstrate value in composition. As Galanes ran these workshops, she realized that participants were responding to something deeper: what it means to sit with something or someone for one minute, as opposed to five minutes, or ten.
To go beyond the surface of something is also to push past our fear of it. When you spend time with Galanes's work you begin asking profound—and maybe scary—questions: what if we treated each other as fully human? To spend time with Galanes's work you'll see why she also inspires awe and wonder.
We invite you to come and interact with Galanes, as well as artists Max Collins and Phyllis Thompson, during their residencies at Albright-Knox Northland through September 12, 2021. In order to ensure a safe environment for all, we encourage you to review our Courtesy Code and reserve your visit date and time prior to your arrival.