Works on Paper: The Natalie and Irving Forman Collection
Friday, August 15, 2008–Sunday, November 30, 2008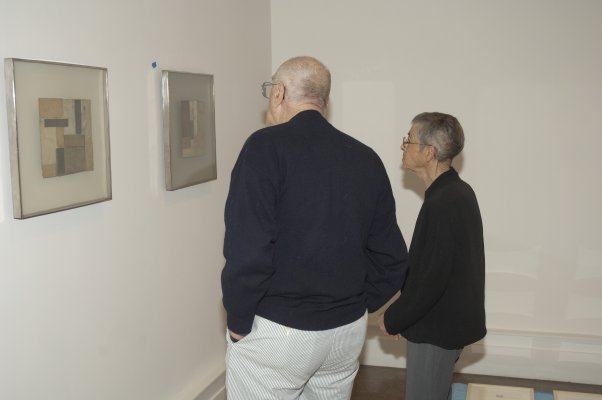 The piece that began the Forman Collection was a small graphite drawing of a young girl by Jules Pascin. In 1965, Natalie and Irving Forman had saved enough money—$135—and had mustered enough confidence to travel from Chicago to New York to make this first acquisition. While the work by Pascin was eventually exchanged for other works, this initial purchase marked a pivotal moment in the Formans' collecting history and remained the only piece in their collection for several years. Natalie and Irving Forman have passionately and intuitively collected art during the four decades since that first acquisition. Works on Paper: The Natalie and Irving Forman Collection is the first time this collection of works has been exhibited en masse. While this exhibition refers to their first acquisition in terms of the medium, it also reflects the remarkable evolution of the Forman Collection, which today comprises not figurative works, like the Pascin, but wonderfully unique and, at times, experimental abstract works.
In 2005, the Albright-Knox exhibited paintings and sculpture in the Forman Collection. This exhibition celebrated the generosity of Natalie and Irving Forman, who have donated their significant collection to the Albright-Knox and introduced the Buffalo Niagara region to brilliant works by both established and emerging artists. With more than 150 paintings and sculpture and more than 150 works on paper, the Forman gift to the Albright-Knox is the single largest gift to be donated at one time in the museum's history. The Natalie and Irving Forman Collection greatly adds to the Albright-Knox's collection of abstract art. Natalie Forman explains that their collective "sensibilities [are] very much tuned into the idea of area and space," and her own attraction to abstraction lies in "[the] moment where [one can] enter into [an artwork] and have a dialogue with it, instead of being told a story."
In 2005, the majority of paintings and sculpture in the Forman Collection were permanently shipped to the Albright-Knox. The works on paper in this exhibition are the works that replaced the paintings and sculpture on the wall of the Formans' New Mexico home. These works require that exhibition viewers spend time with, live with, and absorb their presence, just as the Formans do, because their delicate subtleties are best appreciated after extended and repeated viewing.
More than simply collecting art over the last four decades, the Formans have also been cultivating relationships with the artists in their collection. Actually, the Formans never intended to start a works on paper collection. Instead, it was something that came about rather organically. While they did select many of the works carefully and intentionally, artists also gifted works to convey birthday wishes, wishes for a speedy recovery, or as simple expressions of gratitude, each attached with a message meaningful to the Formans. Artist Winston Roeth, represented by 20 works on paper in the Forman Collection, recalls the experience of looking through many of these pieces with Natalie Forman as a guide: "We began opening flat file drawers filled with works on paper. One by one, Natalie held out a work for Irving and me to view. It was pure delight . . . you could feel her joy. As we viewed each work, Natalie would recall the artist and tell great stories about art and life. The experience left in me an immediate and lasting impression."
Each one of the more than 40 artists represented in this collection approaches the medium of paper in a way that is unique to their artmaking process and philosophy. Many of these artists consider themselves painters first and, as a result, their engagement with paper is an opportunity for experimentation. As artist David Simpson explains, working with paper, "is a chance to do things that canvases are not meant to be . . . . It's always a surprise to me what happens." Many of these artists have had a long history with paper, which is a natural first encounter with artmaking. Roeth states, "I've made drawings my whole life . . . . It's very basic . . . just begin . . . that's all that's required . . . pencil to paper . . . like 'thinking out loud'." Artist Marcia Hafif describes the immediacy of the act of drawing as "a quite direct path [that] runs from the hand to the brain, to the feelings, to the need and the desire to locate an image, a thought, a design in the visual world."
The immediacy of paper in undeniable. The materials draw the viewer in. The artist's hand is palpable. Warmly personal, these works on paper are treasures that attest to not only the Formans' collecting habits, but also to their kindness and generosity, making this collection a symbol of gratitude and affection, appreciation and respect.
This exhibition was organized by Anna Kaplan, Curatorial Assistant & Project Curator for Works on Paper: The Natalie and Irving Forman Collection.