Clyfford Still: Thirty-three Paintings in the Albright-Knox Art Gallery
Thursday, February 24, 1966–Thursday, March 31, 1966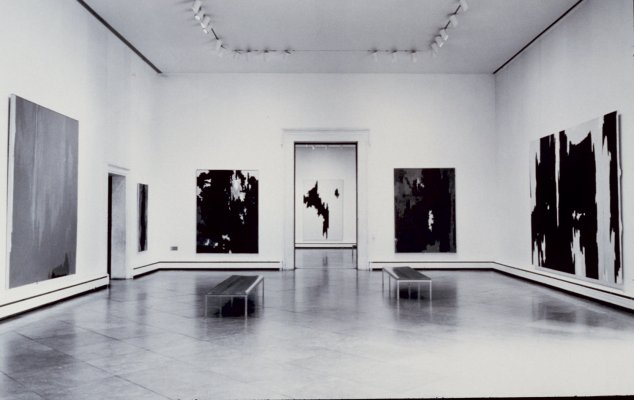 This exhibition celebrated Clyfford Still's historic gift of 31 paintings to the Albright-Knox and his unique, nearly decade-long relationship with the museum.
Notoriously fickle when it came to long-term friendships with art dealers and fellow artists, Still developed a unique relationship with the museum in the 1950s through Director Gordon M. Smith and Board President Seymour H. Knox, Jr. This relationship was initiated in 1957 with the purchase of a monumental painting, PH-49 (1954), 1954, for the museum's collection. In 1959, Smith invited Still to organize his first large-scale survey at the museum, and granted the artist complete control over the exhibition's content, design, and installation. Following the retrospective, an additional work by Still, PH-48 (1957-D-No. 1), 1957, entered the museum's collection.
Convinced that the Albright-Knox would make a suitable home for a carefully chosen group of paintings, Still subsequently donated 31 works to the museum in 1964. This gift secured the Albright-Knox's place as the most significant repository of the artist's work until 2011, with the historic founding of the Clyfford Still Museum in Denver.