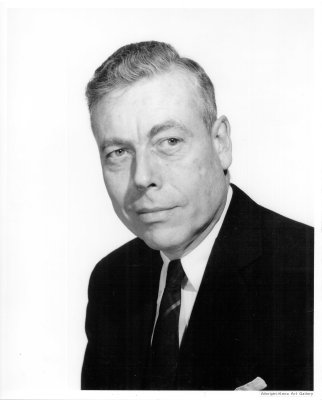 Under Gordon M. Smith's leadership as director (September 15, 1955–January 1, 1973), the museum rededicated itself to collecting and exhibiting contemporary art. In this effort, Smith recruited Seymour H. Knox, Jr., as president of the museum's Board. The two would go on to work in close collaboration to grow the museum's collection. In the spirit of the Room of Contemporary Art, Smith moved quickly to acquire masterpieces by emerging New York Abstract Expressionists before such works were widely seen in major American museums. Among the many works brought into the collection through Smith and Knox's collaboration are Arshile Gorky's The Liver Is the Cock's Comb, 1944; Jackson Pollock's Convergence, 1952; Franz Kline's New York, N.Y., 1953; and Mark Rothko's Orange and Yellow, 1956—all of which were accessioned on a single day through funds provided by Knox. Smith also developed a crucial relationship with Clyfford Still. Smith first visited Still's New York studio in 1954, and a few years later, with Knox's support, he acquired 1954, 1954, for the museum's collection. This first meeting eventually led Smith to invite Still to organize his own large-scale survey, the artist's first, at the museum in 1959.
Three major exhibitions celebrating additions of seminal works by contemporary artists to the collection were held in 1957, 1958, 1966, and 1969. As part of the Buffalo Festival of the Arts Today in 1965, Smith organized Art Today: Kinetic & Optic, which attracted 313,000 people in six weeks. In addition to his role in shaping the museum's collection, Smith also presided over a major campus growth and renovation project from 1958 to 1962. An addition designed by Gordon Bunshaft of Skidmore, Owings, and Merrill nearly doubled the museum's exhibition space and added a restaurant, parking lot, and auditorium.
Smith retired and was named Director Emeritus in 1973.
Last updated 2019