Clyfford Still
Saturday, July 22, 2000–Sunday, September 10, 2000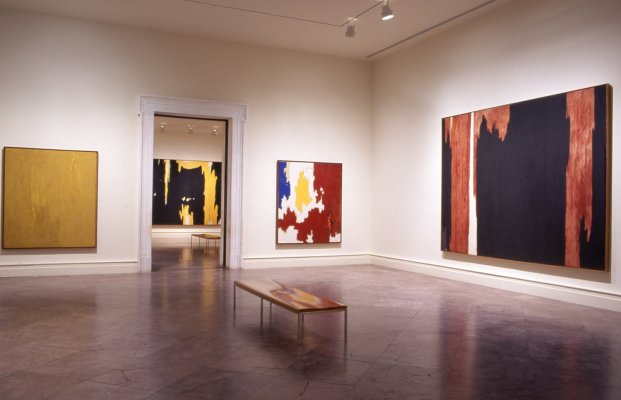 1905 Building
The Albright-Knox owns 33 paintings by the abstract expressionist Clyfford Still, the largest public collection of the artist's work. Notorious for distrusting the art world, Still developed a unique relationship with the museum through its then Director Gordon Smith and Chairman of the Board, Seymour H. Knox, Jr. This relationship, initiated in 1957 with the purchase of 1954 for the permanent collection, culminated in a major one-artist exhibition at the museum in 1959. For this undertaking, the artist was granted complete control, both in the selection of works and their installation. Convinced that the Albright-Knox would make a respectful home for a carefully chosen group of paintings, Still gave 31 canvases to the museum in 1964. These span the most critical developments of his career from 1937 to 1963 and as a unified group tell us a great deal about his primary concerns (aesthetic and philosophic) during a seminal period of activity.
The best way to approach Clyfford Still's paintings is to see them as one man's creative journey. They are, in a sense, pictorial meditations on life, death, and the persistence of spirit. Still's art is inseparable from the greater development of a postwar intellectual history and the preoccupation — on the part of artists, writers, poets, philosophers, and anthropologists — with a revived interest in primitivism, mythology, and the unconscious. As a visual artist in tune with such theoretical ideas, Still brought a unique perspective to the search for universal meaning. His works exist on many levels: metaphorically, symbolically, and emotionally. Color and form function both as figure and ground, landscape and sky, and as primary matter in large-scaled canvases intended to engulf the viewer. Painting was an ongoing process of discovery for him. What began as dark and ominous images with thick paint and amorphous forms in the late 1930s assumed a lightness of being by the 1960s, as though the artist had found a way to say more with less. Romantic and visionary till the end, Still never relinquished his belief in painting as an heroic act of faith.
This exhibition was organized by Curator Douglas Dreishpoon.