Clyfford Still: The Buffalo and San Francisco Collections
Friday, January 15, 1993–Sunday, March 7, 1993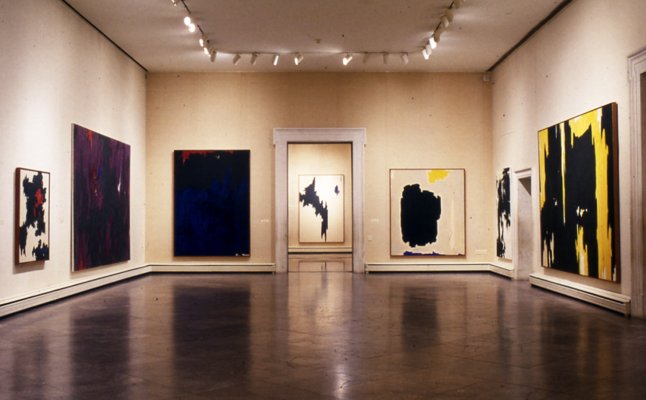 1905 Building
This exhibition was a collaboration between the Albright-Knox, the San Francisco Museum of Modern Art, and the Kunsthalle Basel, and included 40 paintings that represented every phase of the artist's development from 1936 to 1963. In addition to those venues, The Buffalo and San Francisco Collections traveled to the Museo Nacional Centro de Arte Reina Sofia and the Stedelijk Museum.
Clyfford Still was born in Grandin, North Dakota, in 1904, and died in Baltimore in 1980. A feisty, solitary artist, Still resisted associations of himself with the abstract expressionists, though his dramatic use of scale and turbulent flamelike imagery were a critical aspect of a revolution in abstract painting. Still lived and taught in California, Washington, and Virginia before moving to New York at the age of 46. He had been given his first one man show in New York in 1946; in the accompanying catalogue to that exhibition, artist Mark Rothko wrote that Still "has arrived at pictorial conclusions so allied to those of the small band of Myth Makers" in New York. But it was not until 1950 that Still entered New York's mainstream art world. Nevertheless, the artist declined to show his work from 1950 until 1959, when he chose the then Albright Art Gallery as the setting for a major retrospective of his paintings, a total of 72 works in all.
By this time, Still had created many of his best works, and had established "his signature image of craggy, menacing forms," according to Chief Curator Michael Auping in his essay on Still in the catalogue that accompanied the exhibition. In the few presentations of his work that he allowed, Still was extremely circumspect of critics and curators, and insisted on maintaining control of all aspects of showing. His long-standing relationship with the Albright-Knox resulted in a gift of 31 paintings in 1964. In 1976, he presented 29 paintings to the San Francisco Museum of Modern Art. He also hoped to eventually mount an exhibition at the Kunsthalle Basel, a wish that was never realized. This cooperative project involving these institutions to which the artist had strong ties in a unique event and had the support of the artist's widow, Patricia Still.
The accompanying catalogue, published by Prestel, Munich, contains 63 color plates, and includes an introductory essay by Thomas Kellein, Director of the Kunsthalle Basel, as well as the essay on Still's relationship to the New York School painters by Auping, and an essay on Still's influential role on Bay Area Abstraction in the 1950s and 1960s by Susan Landauer, whose dissertation at Yale focused on that subject.
This exhibition was organized by the Albright-Knox, the San Francisco Museum of Modern Art, the Kunsthalle Basel, and Michael Auping.
Exhibition Sponsors

The exhibition was made possible through the generous support of Tower Group International, Inc.