During Hispanic Heritage Month, we are highlighting artists recently featured in the special exhibition Comunidades Visibles: The Materiality of Migration, which was on view at Albright-Knox Northland February 12–May 16, 2021. The exhibition brought together artworks by first- or second-generation immigrant Latinx artists whose creative practices celebrate their communities and convey urgent stories about historical and contemporary immigration. Today we focus on Los Angeles-based artist Patrick Martinez.
When we say that Patrick Martinez is a Los Angeles-based artist, we mean much more than that he was born there. An important part of Martinez's artistic training came from graffiti runs he went on with his brother and friends. As he tells the journalist Carolina A. Miranda, "That's when I really started observing the landscape," gleaning his first understandings of space and light.
Martinez has embraced spray paint, erasure, and the rough-hewn layered textures of urban materials in work that recalls that cityscape and honors the stories told by its walls. His practice also celebrates the surfaces of his hometown, evoking the complex way the cultures of LA have developed over time and now collide in public space.
Martinez highlights the serendipity of the city, as with the collage of neon signs found in Comunidades Visibles. In this installation, ten discrete artworks featuring quotes, poems, and calls to action invoke the words of immigration justice advocates. We're reminded that, "immigration is natural," "America is for Dreamers," and "hate is too great a burden to bear."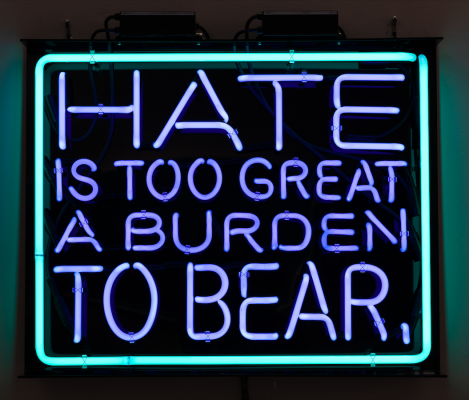 Martinez often quotes historical figures who fought for racial and social justice, carrying their sentiments into the present struggles for equality. These signs deploy the visual language of commercial signage. One can imagine driving down a city street at night with the blaring neon lighting the dark. Just so, the medium that we would more likely expect to advertise a bar or restaurant subverts expectations by communicating unmistakably political messages.
The artists whose works were featured in Comunidades Visibles: The Materiality of Migration layered references from historical and contemporary sources, from different parts of the world, and from varied cultures in order to make work that speaks to their sensibilities. The hybridity of the artworks corresponds closely to the hybrid identities of their makers—Martinez's family, for instance, is Filipino, Mexican, and Native American. These material, natural, and human histories are inexorably intertwined and complex.
Repurposing the natural textures of the city, Martinez tugs on a corner of the fabric of society, reminding those who might forget that we are connected to one another. As one sign warns, "If they come for me in the morning, they will come for you in the night."
Watch an interview with Patrick Martinez conducted by Assistant Curator Andrea Alvarez on Instagram Live from Albright-Knox Northland in spring 2021.