Over the course of Hervé Tullet: Shape and Color, six local artists, including Max Collins, were in residence at Albright-Knox Northland creating murals that are now being installed at 714 Northland Avenue. To celebrate these artists, we are spotlighting each one of them to talk about their practice and the ideas behind their work.
It's a kind of tragic irony that at a moment when someone most needs human connection, grief isolates.  Max Collins is an artist whose life has made death familiar to him, and so in his art he tries to make grief more comfortable for others.
In 2013, Collins was part of an awareness campaign around the opioid crisis where he worked with parents of children who had passed from causes related to drug addiction, be it overdose or suicide. Family members would provide Collins with photographs, which he printed on a large scale and fixed to walls or other surfaces using wheatpaste, a simple adhesive made from cornstarch or wheat flour and water that he had started practicing during college.
Collins remembers being nervous in the beginning. "I showed up and unrolled these prints," Collins says. Parents were confronted by the face of their child ten or twelve feet tall. All Collins could think was that someone was going to break down. It wasn't the case at all.
"It gave this really interesting kind of physical way of someone interacting with the photograph of a loved one," Collins says, "You use your hands and you're touching the print and [you] color on it." Once parents began making, something wonderful began to emerge in the process.
A little over a year later, one of Collins's close friends committed suicide. Trying to find a way to express his own sense of loss, he created a mural for her on the side of the shop she co-owned. It turned the site into a public memorial, a chance for her friends and loved ones to gather, mourn, and look into her eyes one more time.
Collins moved out to Portland, Oregon, where grief followed him. A family friend whom he had grown up with passed. Collins began helping his friend's mother with all the numbing tasks that follow loss: he designed the funeral program and printed photos for the memorial service. The experience triggered something.
"I walked away from helping her, and all these experiences started to gel together," Collins says. He began cold-calling funeral homes to see how an artist could help. One of the calls led to a job, and he became a service assistant for twelve different funeral homes in the Portland area. It wasn't long before he was apprenticing as a funeral director.
There's a cliché that funeral directors are somber people. If Collins is an example, nothing could be further from the truth. In grief, when people are at their most raw and vulnerable, it is the job of a funeral director to be compassionate and competent, caring and human, as the bereaved try to navigate the meaning of their loss.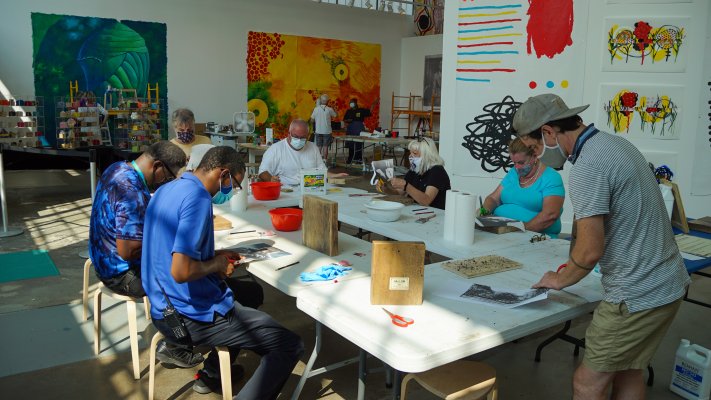 Collins also began teaching workshops, using tools like wheatpasting that he had found so successful with the parents of the opioid awareness campaign. He partnered with the Dougy Center, a pioneering grief counseling center that focuses on supporting children through bereavement with peer-to-peer counseling.
From that was born Hallow Studios. The project is a partnership with Kayla Czysz, a clinical social worker trained in psychotherapy, bereavement, and expressive therapies—also Collins's wife. Hallow Studios creates memorial works, such as heirloom objects as well as public murals, and it also runs workshops. Collins was able to bring these to Albright-Knox Northland during his residency. Cordoning off a section of the gallery, he created a hallowed, intimate space for the expression of loss in Northland.
Instead of searching for some magic phrase to resolve grief, he says, there are certain questions he likes to ask in these workshops, like, What was their name? What were they like? Or when he sees a photograph, he might observe with a smile, "He seems like he's up to something." Collins has seen how powerful it is for people to share their stories, how powerful it can be to speak a name again. Sometimes we just need permission.
Loss doesn't just pertain to people, either. For his residency, Collins has dug into the archives of The Buffalo News and the Buffalo History Museum and spoken with community groups to find out more about the destruction of the historic Humboldt Parkway.
From the early 20th century, Humboldt was tranquil green space. Designed by famed landscape architect Frederick Law Olmstead, the Parkway's six rows of maple trees created a covered canopy for a boulevard that extended from the Buffalo Museum of Science to what is now Martin Luther King, Jr. Park. When the area was targeted for a freeway in the 1950s, construction destroyed the historically Black neighborhood of Hamlin Park, home to a vibrant middle-class community.
Collins's mural is a memorial to this place and people, challenging us to think about grief as something collective, something unspoken beneath the surface of the Buffalo Renaissance. In a way, it reverses the kind of memorialization Collins has done in the past. He uses his familiar wheatpaste to show Humboldt Parkway as we know it now: a busy expressway in gray. Like grief, however, wheatpaste murals fade over time as they are subjected to the elements, until only traces remain.
Perhaps a better relationship with grief can also help us move forward, allowing us to keep alive a connection to those things we value. Collins thinks about what this mural will be in the months to come, when the rain or the snow has begun to reveal the cracks in its veneer, revealing the vibrant green of the Humboldt Parkway that used to be—made to last on durable Polytab.
Maybe the residents of the neighborhood will gather there and, transforming loss into action, help the weather tear away the expressway and recover the community that was.
Although the exhibition is now over, we invite you to 714 Northland Avenue, down the street from Albright-Knox Northland, where all of the murals by the resident artists of Hervé Tullet: Shape and Color are being installed.