On the occasion of Women's History Month, and in conjunction with the National Museum of Women in the Arts' third annual #5WomenArtists campaign, we're celebrating the work of women artists with the Albright-Knox. Five of the projects undertaken as part of our AK Public Art Initiative in the past year have featured works by women artists. We highlight them below.
The Freedom Wall, installed at the corner of Michigan Avenue and East Ferry Street in Buffalo, features portraits of 28 notable civil rights leaders from America's past and present, seven of which were created by Julia Bottoms, and the other 21 of which were created by John Baker, Chuck Tingley, and Edreys Wajed. 
In summer 2017, Betsy Casañas created a mural celebrating the significant contributions made by the region's Hispanic and Latinx communities to the cultural and economic vitality of Buffalo's Niagara Street corridor and our city at large.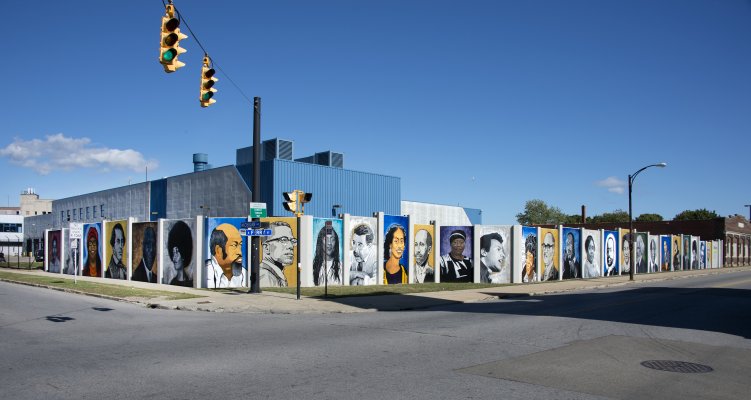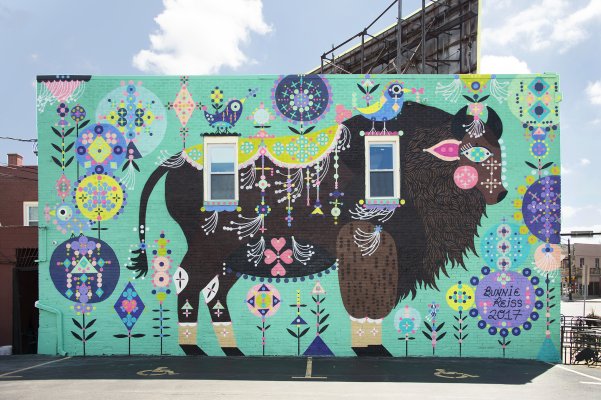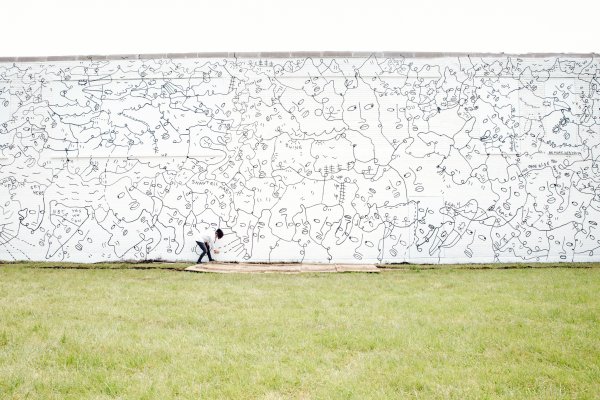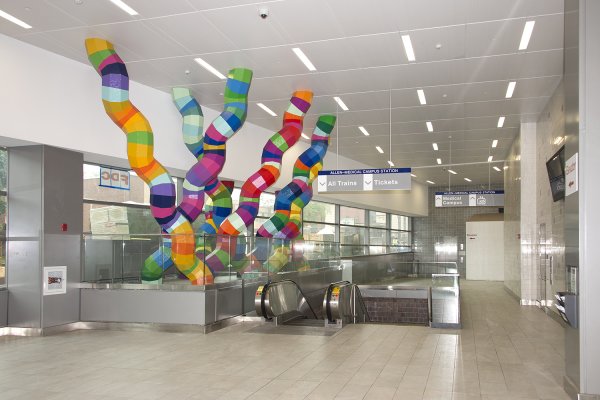 Bunnie Reiss's mural for the Hertel Avenue location of Joe's Deli, entitled Magic Buffalo, features her signature interweaving of dreamlike imagery and mythological themes with delicate geometric tracery. 
After the presentation of Shantell Martin's exhibition Someday We Can at the Albright-Knox, Martin created a mural using her simple trademark linework—black ink on white surfaces—on the side of a building at 537 East Delavan Avenue in Buffalo. 
Shasti O'Leary Soudant's installation for the Niagara Frontier Transportation Authority's Allen/Medical Campus Station comprises six stainless-steel sculptures—collectively titled Gut Flora—inspired by bacteria and constructed of individually powder-coated steel sections. 
Ten other AK Public Art projects have featured the work of women artists, including Roberley Bell, Amanda Browder, Jessie and Katey, Kaarina Kaikkonen, Jenny Kendler, Casey Riordan, Alice Mizrachi, Beverly Pepper, and Tape Art (which includes artists Leah Smith and Kristen Carbone).