Imperfections By Chance: Paul Feeley Retrospective, 1954–1966
Sunday, November 9, 2014–Sunday, February 15, 2015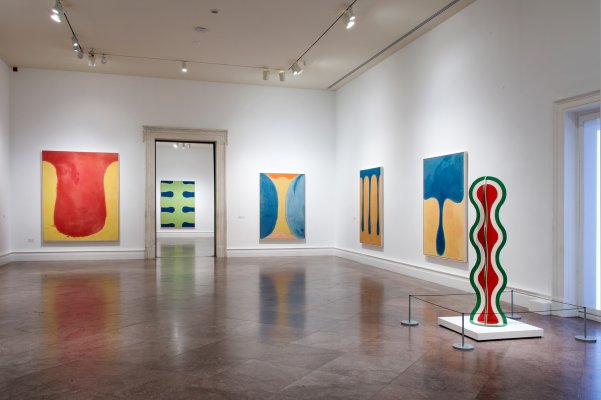 1905 Building
By the time of his death, Paul Feeley (American, 1910–1966) had achieved a level of recognition that far exceeded the twelve-year trajectory of his mature work. Honored during his lifetime by multiple solo exhibitions at the Tibor de Nagy Gallery and the Betty Parsons Gallery, and two years after his death by a full-bodied retrospective at the Solomon R. Guggenheim Museum, Feeley produced idiosyncratic abstractions that are the timely subject of a major retrospective organized by the Albright-Knox.
Feeley's role in spearheading the art department at Bennington College during the late 1930s is legendary. "Paul had enormous vitality," recalled Helen Frankenthaler, one of his best students, years later during an interview with Barbara Rose. "I mean, his whole style was energy, curiosity, appetite. Everything interested him." Feeley's distinguished tenure at Bennington from 1939 to 1966 enabled his own artistic development through formative friendships with Lawrence Alloway, Gene Baro, Anthony Caro, Clement Greenberg, Kenneth Noland, Jules Olitski, Jackson Pollock, and David Smith.
Organized by Chief Curator Emeritus Douglas Dreishpoon, this exhibition fleshed out the full spectrum of Feeley's creative output: early Abstract Expressionist–inspired paintings from the mid-1950s, organic figure-ground compositions from the late 1950s and early 1960s, and the diagrammatical compositions that preoccupied him from 1962 until 1966. The exhibition also included a selection of Feeley's fluid works on paper, as well as several painted sculptures, some of the last works he made.
This exhibition was initiated by Peggy Pierce Elfvin Director Janne Sirén and was organized by Albright-Knox Chief Curator Emeritus Douglas Dreishpoon and Tyler Cann, Associate Curator of Contemporary Art at the Columbus Museum of Art.