Giving up One's Mark: Helen Frankenthaler in the 1960s and 1970s
Sunday, November 9, 2014–Sunday, February 15, 2015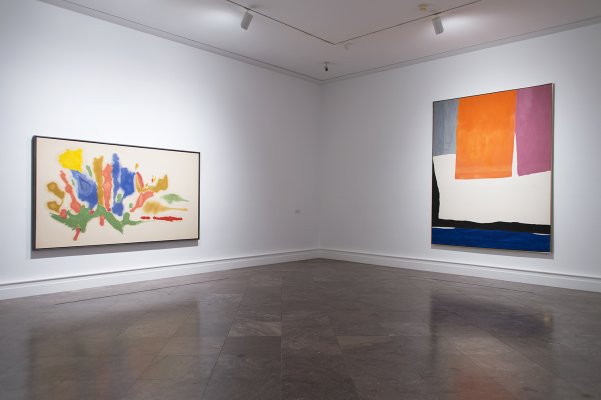 1905 Building
Helen Frankenthaler (American, 1928–2011) had her first solo exhibition at Tibor de Nagy Gallery in 1951, an exhibition that synthesized the most radical aspects of works by Arshile Gorky, Willem de Kooning, and Jackson Pollock, with ambitious canvases of textured surfaces, pale color, and calligraphic drawing. The following year, with Mountains and Sea, 1952, she created another kind of painterly space by staining unprimed canvas with oil paint while allowing telltale signs of drawing to remain.
This exhibition focused on the painter's development during the 1960s and 1970s, a period that marked her transition from oil to acrylic paint, and from gestural abstraction to robust images of consolidated color and tonal nuance. It included approximately 17 paintings and a selection of works on paper. These ranged from Frankenthaler's monumental, mural-sized canvases, to more diminutive paintings and paper works that provided an intimate glimpse into her creative process. For a painter like Frankenthaler, the smaller canvas, like the work on paper, offered a way to experiment. The equivalent of dress rehearsals, these modest works tell us a lot about how she approached image making.
Organized by Chief Curator Emeritus Douglas Dreishpoon, this 20-year survey explored how Frankenthaler's notion of abstraction expanded during these decades, the extent to which landscape persisted as subject matter in her works, how subtle changes of techniques affected the way her images were conceived, and how drawing continues to inform the creative process.
This exhibition was organized by Chief Curator Emeritus Douglas Dreishpoon in cooperation with the Helen Frankenthaler Foundation.