Abstract Expressionism: The Critical Developments
Saturday, September 19, 1987–Sunday, November 29, 1987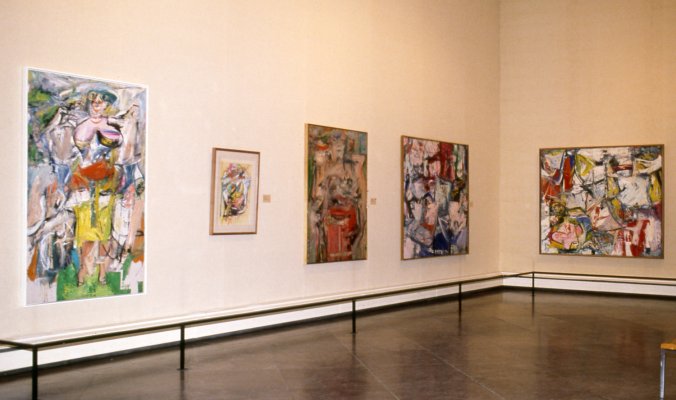 1905 Building
Abstract Expressionism: The Critical Developments was the highlight of a year-long celebration of the 125th anniversary of the founding of The Buffalo Fine Arts Academy. The exhibition paid homage to a movement considered to be the United States's most vital contribution to the history of art and offered the opportunity to take a fresh look at exciting works by artists including Arshile Gorky (American, born Armenia (now Turkey), 1904–1948), Adolf Gottlieb (American, 1903–1974), Hans Hoffman (American, born Germany, 1880–1966), Franz Kline (American, 1910–1962), Robert Motherwell (American, 1915–1991), Barnett Newman (American, 1905–1970), Jackson Pollock (American, 1912–1956), Mark Rothko (American, born Russia (now Lativa), 1903–1970), and Clyfford Still (American, 1904–1980).
Due in large part to the generosity of Seymour H. Knox, Jr., Abstract Expressionist works have become the cornerstone of the museum's collection and the Albright-Knox has achieved international renown and acclaim for its early support of this movement.
A fully illustrated catalogue, published in collaboration with Harry N. Abrams, Inc., accompanied the exhibition; it contains essays by Auping and scholars Lawrence Alloway, Ann Gibson, Donald Kuspit, Michael Leja, Marcelin Pleynet, Richard Schiff, and David Sylvester.
This exhibition was organized by Chief Curator Michael Auping.
Exhibition Sponsors

This exhibition was made possible in part with public funds from the National Endowment for the Arts and the New York State Council on the Arts and by grant from the Luce Fund for Scholarship in American Art, a program of the Henry Luce Foundation, Inc.