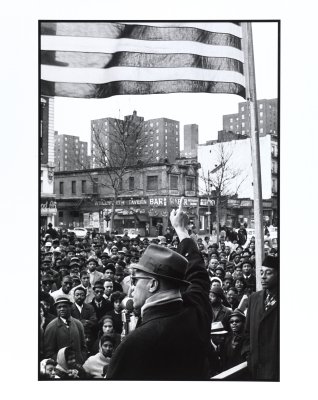 Malcolm X's impassioned rhetoric for Black empowerment and the abolishment of nationally pervasive racial inequities helped shaped the course of the modern struggle for civil rights. He was a fiery and fearless orator who never shied from criticism of systemic barriers or cultural attitudes that denied rights and justice to African Americans. His articulation of racial pride, Black nationalism, and, later in his career, human rights was unique among his contemporaries.
In 1964, Malcolm embarked on a pilgrimage to Mecca that would cause him to dramatically rethink his beliefs about how best to combat racism in the United States. The journey proved to be both a political and spiritual turning point in his life. Malcolm was among the first and most prominent American civil rights leaders to contextualize their movement within the context of a global anticolonial struggle. He returned to the United States with renewed optimism about the prospects for peaceful resolutions to America's race problems. "The true brotherhood I had seen had influenced me to recognize that anger can blind human vision," he said. "America is the first country . . . that can actually have a bloodless revolution." While still dedicated to protecting constitutional and basic human rights for African Americans, Malcolm began to welcome allies from any and all cultural backgrounds to help accomplish the common goal of freedom and equality. After his return, Malcolm said he had met "blonde-haired, blued-eyed men I could call my brothers."
"Power in defense of freedom is greater than power in behalf of tyranny and oppression," he said. "Because power, real power, comes from our conviction which produces action, uncompromising action." When these words are seen in relation with Malcolm's often quoted and even more often misunderstood assertion that freedom should be sought by "any means necessary," we can begin to appreciate that Malcolm stood not for violence itself but for self-determination and equal rights including the right to self-defense, a protection guaranteed under the law.
Tragically, just as Malcolm appeared to be embracing a dramatic ideological transformation, one that emphasized inclusion and the promotion of human rights for all races and that had the potential to alter dramatically the course of the Civil Rights movement, he was assassinated in February 1965.
Last updated 2019