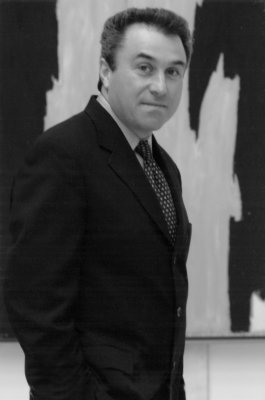 Louis Grachos's tenure (January 1, 2003–December 31, 2012) was marked by a sustained engagement with rediscovering the museum's storied collection of modern and contemporary art in exhibitions including Extreme Abstraction and the Remix and Artists in Depth exhibition series. He also oversaw a vibrant acquisitions program, through which more than 1,100 artworks entered the collection. Among these were joint purchases with the Carnegie Museum of Art, Whitney Museum of American Art, and Tate Modern of major works of art by Rachel Whiteread, Bruce Nauman, and Felix Gonzalez-Torres, as well as commissions from artists like Sol LeWitt and Andy Goldsworthy.
Establishing strong ties between the Albright-Knox and the broader community was also a priority under Grachos's leadership. New initiatives included the school-tour program Art'scool, which expanded the museum's reach from around 7,000 students a year from Buffalo's city schools to nearly 18,000 students a year from rural, urban, and suburban districts across Western New York, and M&T FIRST FRIDAYS @ THE GALLERY, which pairs free admission to portions of the museum with special programs and performances. Beyond the museum's walls, the ambitious Beyond/In Western New York exhibitions, presented at venues throughout the region in 2005, 2007, and 2010, brought attention to the lively and thriving art scene in Western New York and helped establish the region as an important arts destination.
Grachos also supported the Board's decision in 2007 to deaccession a number of works that fell far outside the museum's mission to collect and display the art of its time. This initiative was undertaken to ensure the Albright-Knox's institutional vitality in a 21st-century context and to reaffirm its position as a global leader in the field of modern and contemporary art.
After his time in Buffalo, Grachos became the first director of The Contemporary Austin.
Last updated 2019