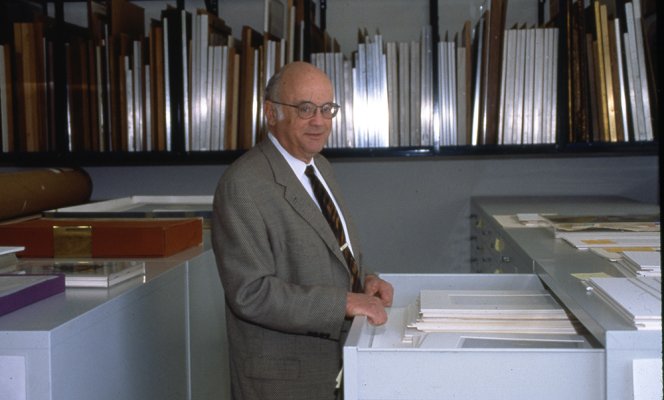 Frederic P. "Nick" Norton is an attorney, past Buffalo Fine Arts Academy Board member (October 1998–September 2008), and long-time friend of the museum. To say that he and his father, F. Paul Norton (American, 1901–1978), were passionate collectors would be an understatement.
The family's interest in collecting began in the 1940s when the elder Norton admired several prints acquired by his law office associate and, as his son describes, "caught the bug." While attending Yale Law School, Nick Norton often escaped to New York "for a breath of humanity" and to seek out potential additions to the stellar collection of prints he and his father were lovingly building. Upon Nick's graduation, his father gave him James Ensor's Les bons juges (The Good Judges,) 1894.
The two eventually partnered to form the Buffalo-based law firm Norton and Norton. Nick was particularly interested in up-and-coming artists with more experimental approaches to printmaking and, in the 1960s, began collecting works by artists such as Robert Rauschenberg and Philip Pearlstein. He often found himself drawn to, in his words, "offbeat" artists who, like him, went their own way. Nick Norton, along with his wife Alex (American, 1939–2015), continued to collect after the death of his father in 1978, making their collection available to local students in their home.
By the mid-1990s, Nick began to seek out a long-term home for the collection of works he affectionately refers to as his children. Between 1998 and 2000, Norton gifted to the Albright-Knox his substantial holdings of more than 500 prints, including two major portfolios by Odilon Redon and Georges Rouault and additional works by Camille Corot, Salvador Dalí, Albrecht Dürer, Pablo Picasso, Rauschenberg, Rembrandt van Rijn, and Edward Ruscha. This extensive group of works served as a catalyst for the creation of a new home for prints and drawings on the museum's campus: The F. Paul Norton and Frederic P. Norton Family Prints and Drawings Study Center, which was dedicated on August 7, 1999.
Learn more about the Norton Family Print Collection.