Sunday Insights: Julia Bottoms on We Wanted a Revolution: Black Radical Women, 1965–85
Sunday, February 18, 2018
2 pm EST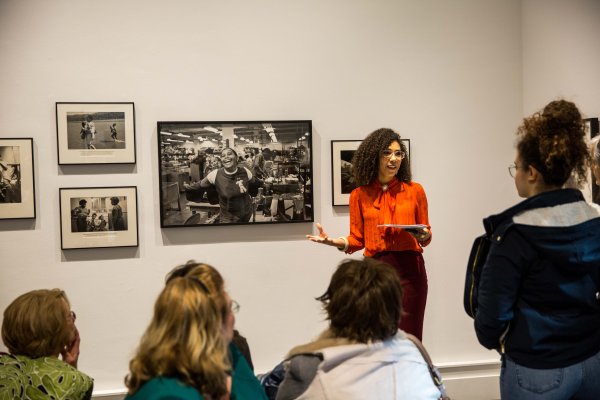 FREE with museum admission 
FREE for Members
1905 Building, North Galleries
On select Sundays during We Wanted a Revolution: Black Radical Women, 1965–85, the Albright-Knox will host conversations inspired by the exhibition led by local women of color, including artists, activists, educators, and more. This Sunday's talk will feature artist Julia Bottoms. Learn More and View Full Schedule
About the Speaker
Julia Bottoms is a Buffalo-based artist who creates realistic and recognizable representations, using portraiture to give a glimpse of people of color as sensitive, sincere, and multi-faceted—characteristics that the artist feels are often missing in mainstream portrayals. Bottoms has previously focused on depictions of men in part because she feels there is a "certain level of expressive privilege often denied to men by our culture." This situation allows her the freedom to explore and deviate from notions of accepted, but deeply flawed, racial stereotypes and distorted gender roles. Recently her work has slightly expanded to encompass aspects of character in general. Bottoms feels that in a culture that so often markets reductive representations of the beauty, grace, and intellect of people of color, it is necessary to produce and promote nuanced and constructive images that actively break that cycle.
Bottoms proudly asserts, "People of color have been trapped in someone else's narrative for too long, and when we have tried to write our own, we have often been erased from the mainstream's history books. I believe it is time for us to use the talents we possess to speak our truth. Our lives are worthy of dialogue." Bottoms has exhibited regionally, including the Buffalo Arts Studio exhibition Tinted: A Visual Statement on Color, Identity, and Representation (April 28–June 2, 2017). Bottoms is the inaugural artist for the Open Buffalo Emerging Artist Series. She is also a contributing writer for AFROPUNK.
Program Sponsors

Support for educational components of We Wanted a Revolution: Black Radical Women, 1965–85 has been provided by a grant from the Community Foundation for Greater Buffalo.