Sunday Insights: Gail Wells on We Wanted a Revolution: Black Radical Women, 1965–85
Sunday, March 18, 2018
2 pm EDT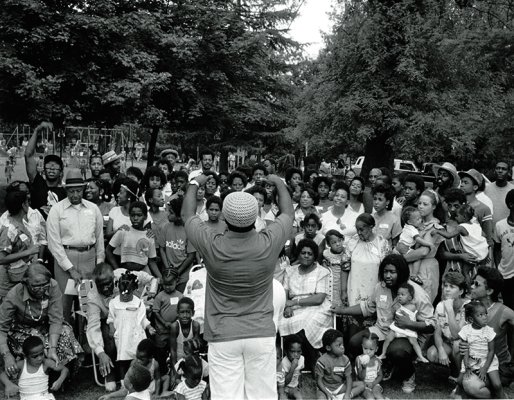 FREE with museum admission 
FREE for Members
1905 Building, North Galleries
On select Sundays during We Wanted a Revolution: Black Radical Women, 1965–85, the Albright-Knox will host conversations inspired by the exhibition led by local women of color, including artists, activists, educators, and more. This Sunday's talk will feature educator Gail Wells. Learn More and View Full Schedule
About the Speaker
Gail Wells is a marketing consultant, event planner, diversity trainer, wellness educator, and social justice advocate. She has two degrees in Urban Planning—one as an undergraduate and another as a graduate student at the University at Buffalo.
Wells has had a varied career as an entrepreneur and leader. She was a co-founder of the University at Buffalo's Black Student Union; a co-founder of the Black Dance Workshop, School of Movement and Center for Positive Thought; a co-owner of the Watu Sokoni "People's Market"; and a co-editor of Buffalo After Dark Magazine. She also served on the inaugural committee that founded Juneteenth in Buffalo.
Wells is a graduate of Leadership Buffalo and was elected President of her 1998 class. She has been elected to several positions, including President of the Copper Town Block Club, Steward for United University Professional Staff, Vice President of the Association of Faculty and Staff of African Descent, and Erie County Democratic Party Committeewoman. She has received numerous awards both locally and nationally for her innovative ideas and her ability to lead. While employed at Buffalo State College she received two Presidential Awards, one for College Service and one for Leadership in Diversity, in addition to the Student Government's highest award in recognition of service to students. Her greatest honor was having the African American Student Organization sponsor "The Gail Wells Activism Scholarship" designed to support an entering student who has a stellar record of community service. She is also a skilled equity and inclusion facilitator who has trained faculty and staff in the NCBI Equity and Inclusion Model. She has been the leader of the Buffalo State College NCBI Campus Affiliate Coalition Building Team for more than 20 years.
After retiring, Wells was selected in 2014 and 2015 as a One Region Forward Champion for Change. In 2015 she was the grand prize winner of the D2LS Design Competition, along with Della Miller, for innovative sustainability using shipping containers as a catalyst to drive economic development on the East side of Buffalo. Currently Wells is the Marketing Director for the Michigan Street African American Heritage Corridor Commission. She is an avid traveler, master gardener, drummer, and dancer who has three children and is married to James S. Horne.
Program Sponsors

Support for educational components of We Wanted a Revolution: Black Radical Women, 1965–85 has been provided by a grant from the Community Foundation for Greater Buffalo.