Mental Health in the Arts: Albright-Knox in Conversation with Front Seat Life LLC
Friday, April 1, 2022
6 pm - 7 pm EDT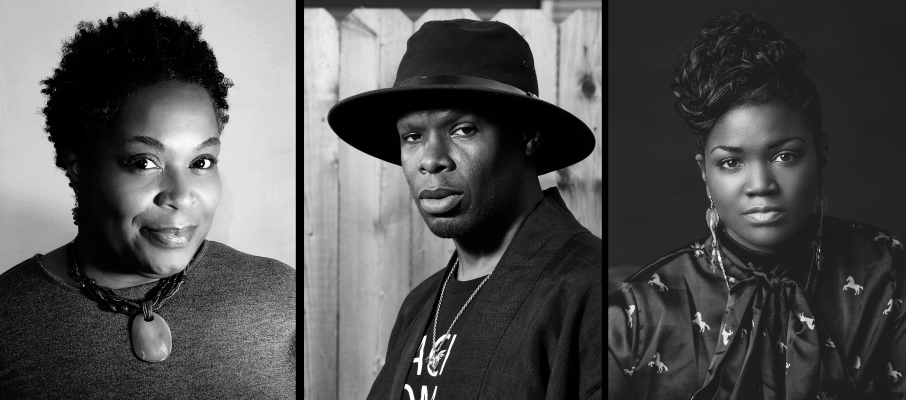 FREE
Albright-Knox Northland
Join Kelly Marie Wofford, founder of Front Seat Life, LLC, and In These Truths co-curators Edreys Wajed and Aitina Fareed-Cooke for a conversation about mental health and best practices with a focus on Black artists.
Please review our Courtesy Code and reserve your visit date and time prior to your arrival.
---
About the Speakers
Kelly Marie Wofford is the founder and principal of Front Seat Life, LLC, an organization devoted to eliminating barriers to mental health and wellness. Her dedication to mental health and health equity has given her the opportunity to be an instrumental asset in the development of the Buffalo Center for Health Equity and the UB Community Health Equity Research Institute. Wofford, in her many roles seeks to elevate the importance of mental health care access and reduce the stigmas related to seeking support, especially in BIPOC communities, ensuring that all people have the same opportunity to live a healthy life no matter where they live, work, play, or worship.
Edreys Wajed is celebrated for his work as a musician, poet, playwright, jewelry designer, graphic designer, educator, entrepreneur, and muralist (including as a contributor to Albright-Knox Public Art Initiative projects The Freedom Wall, 2017, and Love Black, 2020). After establishing himself as a self-trained barber as a teenager, Wajed built his early reputation on customized hats, clothes, and hand-designed logos, all before formally studying graphic design in college. His creativity, craftsmanship, and passion to inspire people are central to his spirit of entrepreneurship.
Aitina Fareed-Cooke initially pursued creative expression in words, and later photography and music, as a means to address the trauma of her early life. She has since become an accomplished Christian hip-hop artist (under the name A.I. The Anomaly) and award-winning photographer and has established her own photography and film company, Get Fokus'd Productions. As a coordinator and educator with various local nonprofit organizations, she has dedicated herself to helping young people claim the power to rewrite their own stories. 
About the Exhibition
In These Truths is an exhibition of works by Black cultural producers, co-curated by two of Buffalo's most influential, charismatic, and insightful artists, Edreys Wajed and Aitina Fareed-Cooke, in collaboration with Curator of Public Art Aaron Ott. This invitational exhibition focuses on Black artists, emerging and established, who, through a wide range of mediums, provoke and reconsider, defy and embrace, test and talk about our shared reality.