Edreys Wajed and James "YAMES" Moffitt
American, born 1974 and 1987
Location: 712 Main Street (Get Directions)
Edreys Wajed's Love Black is a timely contribution to our ongoing national conversation around racial justice. With Wajed's simple but passionate words—produced in collaboration with the local mural artist and sign painter James "YAMES" Moffitt—he challenges the disconnect between the assumption that children, including Black children, are essentially innocent while as adults they can be racially stigmatized as dangerous and undeserving of love and equal treatment—told that their lives do not matter, often with deadly results. With this gentle challenge, Love Black stands as an important reminder that loving and respecting the rights of individuals must transcend age and race.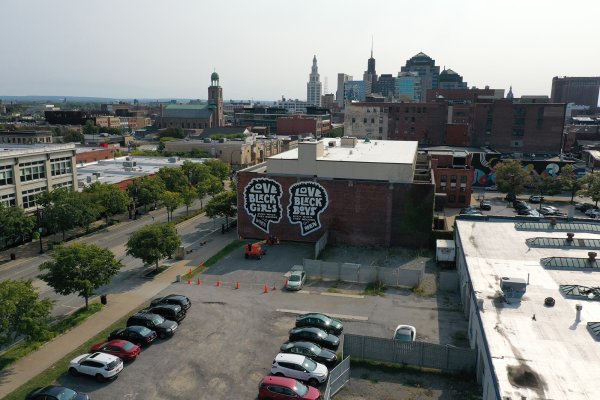 Project Sponsors

This mural was produced by the Public Art Initiative in close collaboration with Say Yes Buffalo and Clover Group, Inc.
Initiative Sponsors

The Public Art Initiative was established and is supported by leadership funding from the County of Erie and the City of Buffalo.