After Hours: Construction Edition—Designing the Museum: Beyond the Logo
Thursday, January 27, 2022
6 pm - 7 pm EST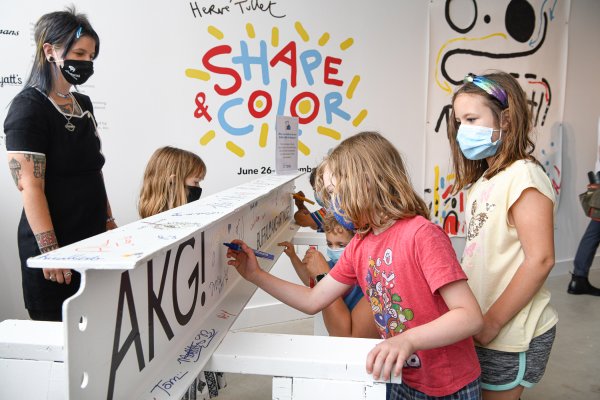 $15 general admission / FREE for members
Virtual Event
From creating exciting opportunities for our community to bringing a new visual identity to life, the team at your future Buffalo AKG Art Museum is working to create a dynamic and welcoming space for all. Join Dr. Callie Johnson, Director of Communications and Community Engagement, and Pam Hatley, Head of Publications and Digital Experience, to learn about the museum's community-based initiatives and get a special preview of the Buffalo AKG brand.
Registration
RSVP/buy tickets online, or contact 716.270.8247 or membership@albrightknox.org, by Friday, January 21, 2022.
If you are a member, please register for or sign in to your Albright-Knox website account in order to receive your members' discount. Your discount will appear after selecting a Member Adult ticket and then updating your cart information and proceeding through checkout. If you experience issues or the discount is not applied to your order, please contact us using the information above.
If you are the employee of a Corporate Supporter of the Albright-Knox, please contact the Membership office at 716.270.8247 or membership@albrightknox.org.
Registrants will receive a link to join this virtual event the morning of the program, as well as a link to watch a recording of the event after it has concluded.
About After Hours
After Hours is a program traditionally available to members at the Professional level and above and to employees of our corporate supporters. This year, we're making this virtual series available to all membership levels as a token of thanks for your ongoing support. Learn More and View Series