After Hours: Construction Edition—We're Going to Need a Bigger Truck: Documenting and Preparing the Collection for Reopening
Tuesday, March 22, 2022
6 pm - 7 pm EDT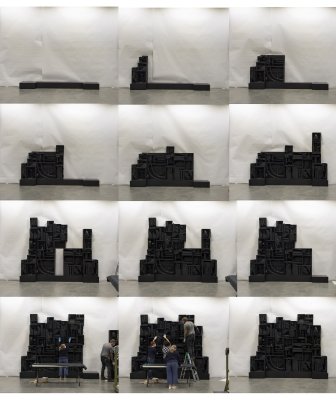 $15 general admission / FREE for members
Virtual Event
An evening with:
Holly E. Hughes, Godin-Spaulding Senior Curator for the Collection
Kelly Carpenter, Imaging, Visual Resources, and Digital Assets Manager
Ryan McDaniel, Lead Art Preparator
Catherine Scrivo Baker, Registrar for the Collection
What does it take to display the museum's collection in your future Buffalo AKG Art Museum? When you encounter your favorite artworks on view, you are seeing the results of careful collaboration across many departments, from ongoing care and conservation to physical installation and digital documentation.
Join us for this third presentation in the After Hours: Construction Edition series to learn about the behind-the-scenes work to preserve and share the collection you love, and meet the staff members who oversee its preparation, installation, documentation, and digitization.
Registration
RSVP/buy tickets online, or contact 716.270.8247 or membership@albrightknox.org.
If you are a member, please register for or sign in to your Albright-Knox website account in order to receive your members' discount. Your discount will appear after selecting a Member Adult ticket and then updating your cart information and proceeding through checkout. If you experience issues or the discount is not applied to your order, please contact us using the information above.
If you are the employee of a Corporate Supporter of the Albright-Knox, please contact the Membership office at 716.270.8247 or membership@albrightknox.org.
Registrants will receive a link to join this virtual event the morning of the program, as well as a link to watch a recording of the event after it has concluded.
About After Hours
After Hours is a program traditionally available to members at the Professional level and above and to employees of our corporate supporters. This year, we're making this virtual series available to all membership levels as a token of thanks for your ongoing support. Learn More and View Series