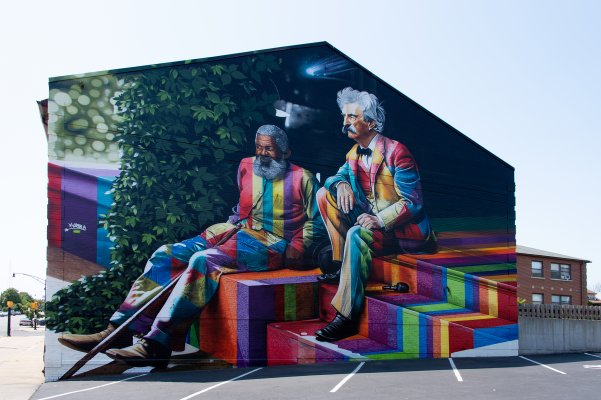 Location: 1188 Hertel Avenue (Get Directions)
In designing his mural for 1188 Hertel Avenue, São Paulo-based artist Kobra immersed himself in Western New York's history. During his research, he found himself drawn to the legacy of one of the region's most famous residents, Mark Twain, and his perhaps less well-known—but nonetheless significant—friendship with John T. Lewis.
Born poor, but a free African American, in northern Maryland in 1835 (the same year as Twain), Lewis taught himself to read and write while earning a modest living as a farmer and blacksmith. However, as tensions mounted in the years leading up to the Civil War, Lewis decided to move north, eventually settling in Elmira, New York, in 1864. There, he found work—first as a coachman and later as a farm manager—for Jervis Langdon, one of the town's wealthiest residents and a leader of the area's passionate abolitionist community. Twain also found himself drawn to Elmira by another member of the Langdon family: Jervis's daughter, Olivia, whom he married in 1870. Even after the family moved to Hartford, Connecticut, they would frequently spend summers in Elmira, where Twain would go on to write major portions of some of his best-known works, including The Adventures of Tom Sawyer, Adventures of Huckleberry Finn, Life on the Mississippi, A Connecticut Yankee in King Arthur's Court, and The Prince and the Pauper. It was during one these trips, in August 1877, that Lewis's and Twain's stories intersected, after Lewis heroically managed to stop a runaway horse and buggy carrying Twain's sister-in-law and niece from plunging off a cliff. From this inauspicious beginning, Lewis and Twain struck up an enduring friendship, which profoundly impacted Twain's understanding of race and inequity in the United States during this time.
In the months initially following the near-accident, Lewis wrote to Twain, "I beg to say, [humbly], that inasmuch as divine providence saw fit to use me as an instrument for the saving of those precious lives, the honor conferred upon me was greater than the feat performed." It is this spirit of humbly serving others that drew Kobra to Lewis and Twain as an artistic subject. Many of the artist's hundreds of murals in Brazil and seventeen other countries feature portraits of famous individuals—including Mahatma Gandhi, Martin Luther King, Jr., and Nelson Mandela—who dedicated their lives to improving those of others. With his murals, Kobra aims to inspire positive change in the world; he has commented:
"I believe that . . . if each of us do our part working for peace then that helps. Help is not only to give money, it's to visit a patient, it's to make a city more pleasant, it's to take care of it for the other inhabitants so they feel good about living in that place, it's to look to the side and see the need of another. . . . With my murals I try to pass all this on, because thousands of people have access to the images and can reflect on them."
 
Project Sponsors

This mural has been made possible in part by the City of Buffalo and Council Member Joel Feroleto. Additional support has been provided by Drs. Andy and Helen Cappuccino.
Initiative Sponsors

The Public Art Initiative was established and is supported by leadership funding from the County of Erie and the City of Buffalo.