GLYS Western New York (Growing LGBTQ+ Youth Support) is a non-profit organization providing support and programming for LGBTQ+ Youth and their families throughout Western New York. On December 19, Michael Spears, Administrative Assistant for GLYS Western New York, and Leah Miori, a University at Buffalo graduate student and GLYS intern, gave a tour of Difference Machines: Technology and Identity in Contemporary Art at Albright-Knox Northland as part of the Sunday Insights series. Spears reflects on what that experience was like.
---
When entering Difference Machines, there is almost a feeling of one's self rupturing, shifting—kaleidoscoping outwards—and folding back to settle into itself. The collection of works questions the seemingly easy relationships we have with ourselves, with each other, and with the places that we find both. Visitors are asked to consider how our increasingly digital social landscape reinscribes axes of difference, reproducing—and often exacerbating—social inequities faced in the "real world" (an uneasy category to begin with). Now that the exhibition has closed, its meandering between physical and virtual spaces takes on new meaning for me, as I re-encounter these works in archival memory-spaces, like this one.
On December 19, 2021, Leah Miori and I led a small group of museum guests through Difference Machines, reflecting on the works and their relation to GLYS, our programming, and our youth as part of the Sunday Insights series. Having visited the exhibition prior and discussed some of our thoughts, we traced a path through the collected works that began with Danielle Braithewaite-Shirley's WE ARE HERE BECAUSE OF THOSE THAT ARE NOT, 2020, an interactive video game installation that cultivates and protects a "PRO BLACK PRO TRANS SPACE." The work speaks to the breadth of tensions throughout the exhibition, interrogating physical and digital archival spaces for their erasure of Black Trans histories while transforming hybridized space into a dynamic archive for those same histories to be resurrected: for those living now to have a space to commune with them.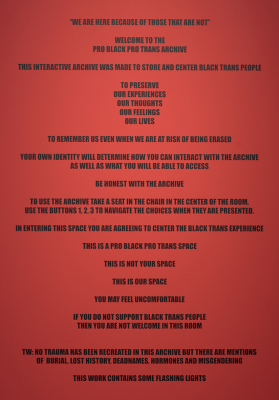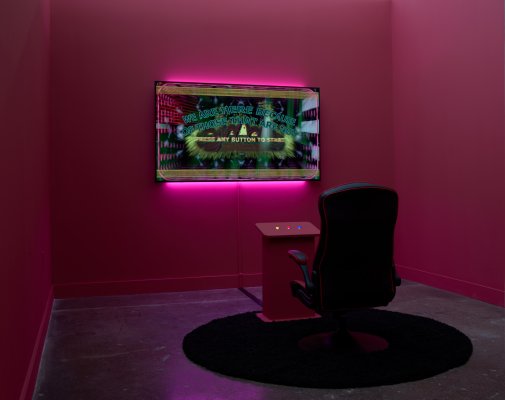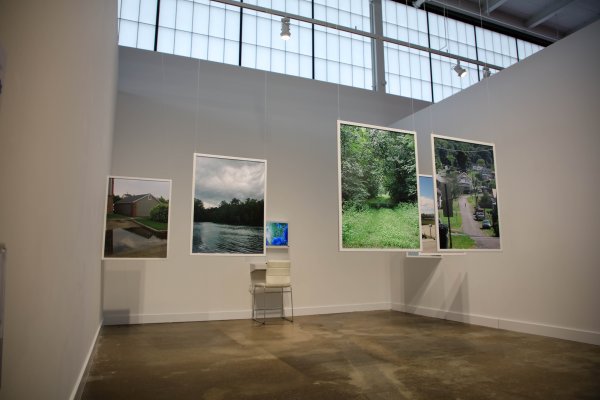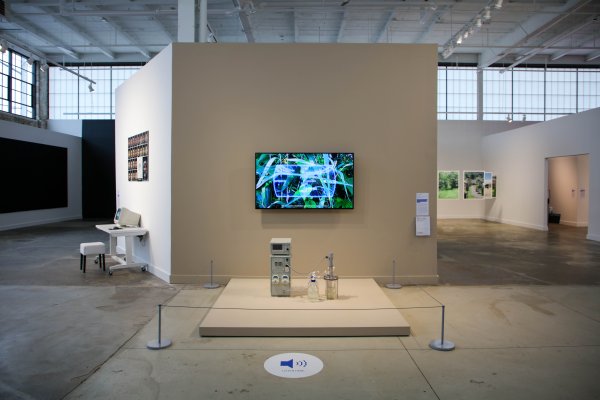 Grounding ourselves here, we followed the siren song of Braithewaite-Shirley's vocaloid soundtrack past more reminders of how much of our histories are lost. Sean Fader's images in Insufficient Memory, 2020, memorializing the victims of hate-based attacks through place-based photography, blurred out of focus as we neared them.
We found ourselves on some space of horizon, among the chimeric oracles that preside over Saya Woolfalk's Landscape of Anticipation 2.0, 2021, wondering how we might reach towards this vision of post-cyborgian unity and Love. How might we engineer our way into such a future?
Rian Ciela Hammond's Root Picker, 2021, busy transforming diosgenin from the roots of wild yams into progesterone and androstenedione, chimes in with us on that question, and provides a model for finding an answer: a return, with intention, to those deep connections that lie untapped. The machinery whirs as it spins something close to gold.
As part of our Sunday Insights discussion, Leah and I reflected on the ways that the youth in our programs encounter and navigate the issues brought up by the pieces in Difference Machines. While digital spaces offer new vectors for finding community and shared experience—especially in the last two years—they are nevertheless limited by the very real and often very physical barriers to equitable access and use. Online liberation is hemmed in by "real-life" factors such as unsupportive family members or unsafe school or extracurricular spaces. Moreover, in terms of both accessibility and safety, these online spaces tend to recreate, either through the hard-coding of their algorithms or the biases of the users themselves, the same obstacles our youth find in their daily lives. It seems that transformation is needed, both in our world and online.
Looking to the examples set by Woolfalk and Hammond, it is a return to the communal—to the life around us and the lives of those in community with us—that is necessary to propel us into some bright, hybrid future. It's through the work of supporting each other in these community spaces that we are able to truly come together, listen to those who are in need, and direct ourselves toward caring for all. It's in the spirit of this community collaboration that GLYS has begun its Youth Gender Affirmation Program, which provides support to youth and families navigating gender exploration and transition
Reflecting on Difference Machines, I revisited WE ARE HERE BECAUSE OF THOSE THAT ARE NOT online at The Black Trans Archive. I wasn't able to go through a full playthrough session in the installation at the Albright-Knox Northland exhibit and wanted to take the time to fully interact with the space of the work. I identified myself, as required at the game's onset, as trans-identifying. I explored the game, walking with a Black Trans sibling as she traveled before visiting the Free Hormone Tower, where hormones are shared through a never-emptying "Hormone Jar" (which works, perhaps, not unlike Hammond's Root Picker). I spent time feeling Braithewaite-Shirley's voices wash over me and the space between us before departing, feeling held and trying to hold the memories I encountered and those who remain with us, closer.
After the exhibition, I spoke with Gi Swords, who facilitates GLYS's Timothy J. Moran Drop-In Center, about how our youth find themselves in these virtual spaces, and what obstacles they encounter. "The diversity in types of online spaces available to our youth has drastically expanded over the past few years. In response to this, our GLYS team has been able to work with our youth to facilitate safe online spaces, such as our virtual Drop-In Center, which have become even more critical during the COVID-19 pandemic," Swords explained. "Many LGBTQ+ youth and especially those who also identify as BIPOC express a lack of access to virtual spaces where they can interact with peers in a safe and affirming way. Spaces like Discord and Twitch allow youth to interact with their peers in a variety of ways including chats and media streaming; however, many of these virtual tools for connection are also spaces where LGBTQ+ youth face bullying, harassment, and a lack of representation. This is why it is critical that LGBTQ+ youth and especially Black Trans youth are able to see themself represented and holding power in virtual spaces."
---
To learn more about GLYS's programs and services, including the ones described here, or to donate to their mission to build affirming cultures and supportive communities for youth of all sexual orientations, gender identities, and gender expressions, visit glyswny.org or call 716.855.0221. For any questions, please contact Michael Spears at admin@glyswny.org.