Phyllis Thompson (American, born 1946) is one of the leading matriarchs of artmaking in the region, earning wide respect in our community among colleagues, educators, makers, and appreciators alike. Thompson is soft-spoken and not a self-promoter by nature, preferring the studio environment to the bustle of art-world events. Luckily, the Buffalo AKG has no qualms about championing the work of incredible artists. Public Art Curator Aaron Ott discusses recent works of Thompson's that have been acquired by the museum.
By Aaron Ott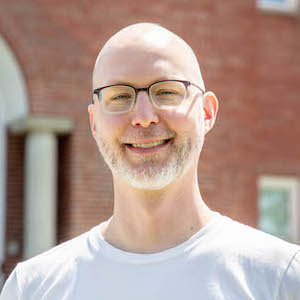 Photo: Jeff Mace
I visited Phyllis Thompson's studio with fellow co-curators Aitina Fareed-Cooke and Edreys Wajed to discuss potential works to include in In These Truths, a special exhibition of Albright-Knox Northland. The planned hour turned into several hours of discovery, as Thompson pulled treasures from her files, some of which are now making their way to the Buffalo AKG Art Museum permanent collection.
In this region, Thompson is primarily known as a prolific monoprint artist, with an open door policy at her Buffalo Arts Studio production space. Her monoprints explore aspects of the artist's relationship with her family as she mines photographs and stories from generations of her ancestors. Memory and its inherent malleability and fallibility interest Thompson, as she layers, manipulates, and adorns photographs with patterned fabrics, textured papers, and hand-drawn elements. The resulting works are meditative. Thompson's abstracted compositions evoke associations and even emotional connections in this familial web.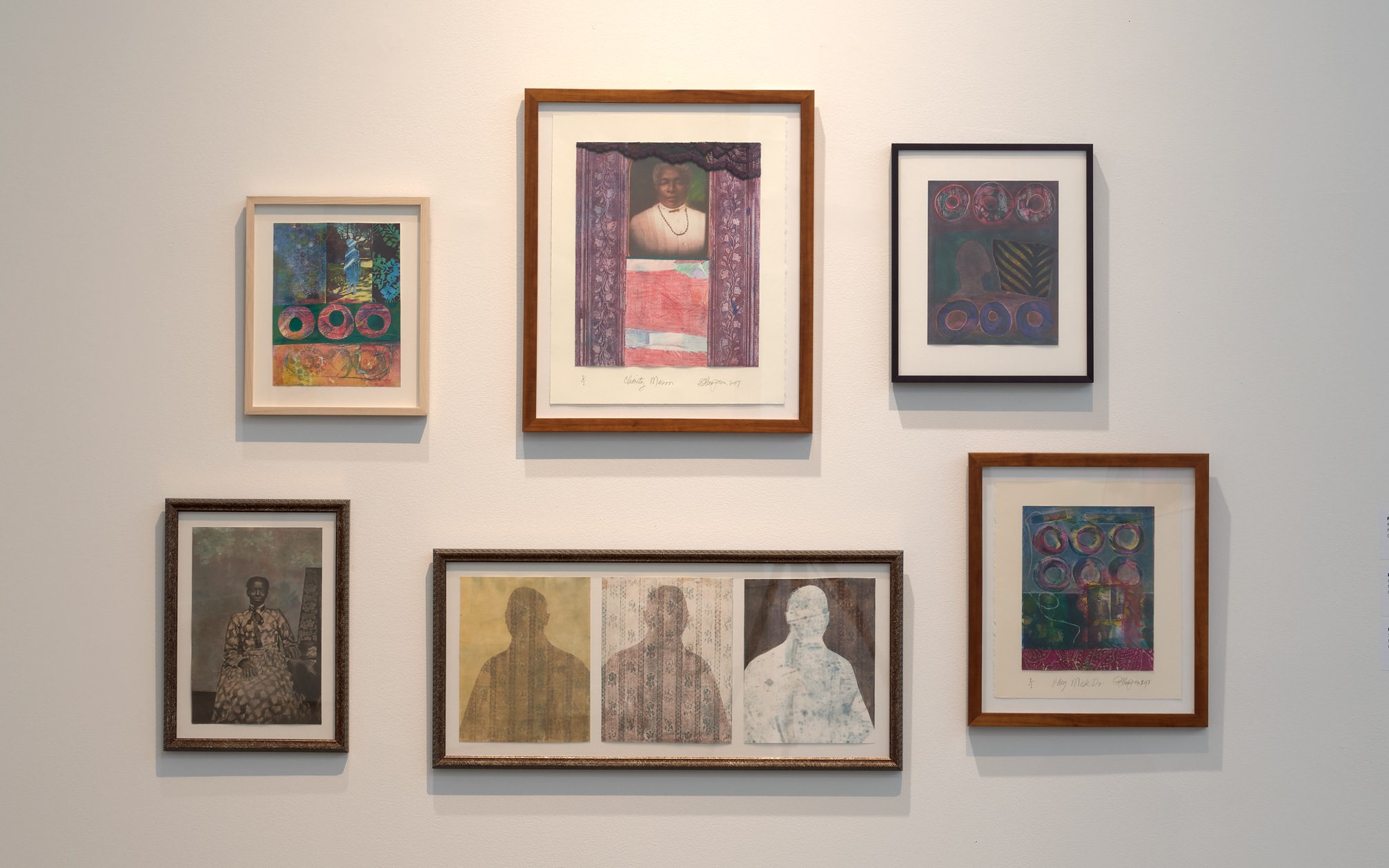 Installation view of works by Phyllis Thompson (American, born 1946) in the special exhibition 
In These Truths
, February 19–June 5, 2022, at Albright-Knox Northland, including Ancestor with Sunday Hat, 2016 (bottom row, left) and Presence, 2016 (bottom row, right). Photo: Brenda Bieger for Buffalo AKG Art Museum
In her affecting but subtle work Ancestor with Sunday Hat, 2016, Thompson coyly suggests that's all there is to see. A perceptive viewer will notice Thompson's signature additions, here as subdued and delicate as her subject. Ghostly lace hangs in the air above the stoic woman—one of Thompson's ancestors—as she directs her gaze toward the camera, towards us. The mere fact that this woman was photographed in her Sunday best suggests that she was part of a family and community of means; not everyone and certainly not every Black family could afford portraits of this kind more than a century ago. The photography of the era required a long exposure time, and the resulting sense of stoicism is clear in the subject's forced stillness. Introducing monoprint, Thompson's forces an unusual flattening of the pictorial space: foreground and background are merged, as if compressed by the weight of time and not merely the artist's hand.
A companion and foil to Thompson's Ancestor is found in Presence, 2016. Presence offers us only absence, a triptych of outlines and pattern but without her ancestors' actual physical being. In lieu of reprinting a photograph of a family member, Thompson alternatively provides only the silhouette, repeated and flipped, layered and embodied by decorative ornamentation, reminiscent of wallpaper or a table runner. There is a haunting feeling to the work with its eerie removal of the identity of the subject, like the nameless protagonist of Ralph Ellison's Invisible Man. The purposeful omission is filled with meaning. The ghostly visage may simply represent the loss of detail we experience with the passing generations; or it may recall how the men of Thompson's past were treated as less than men—as people to overlook, people not even seen.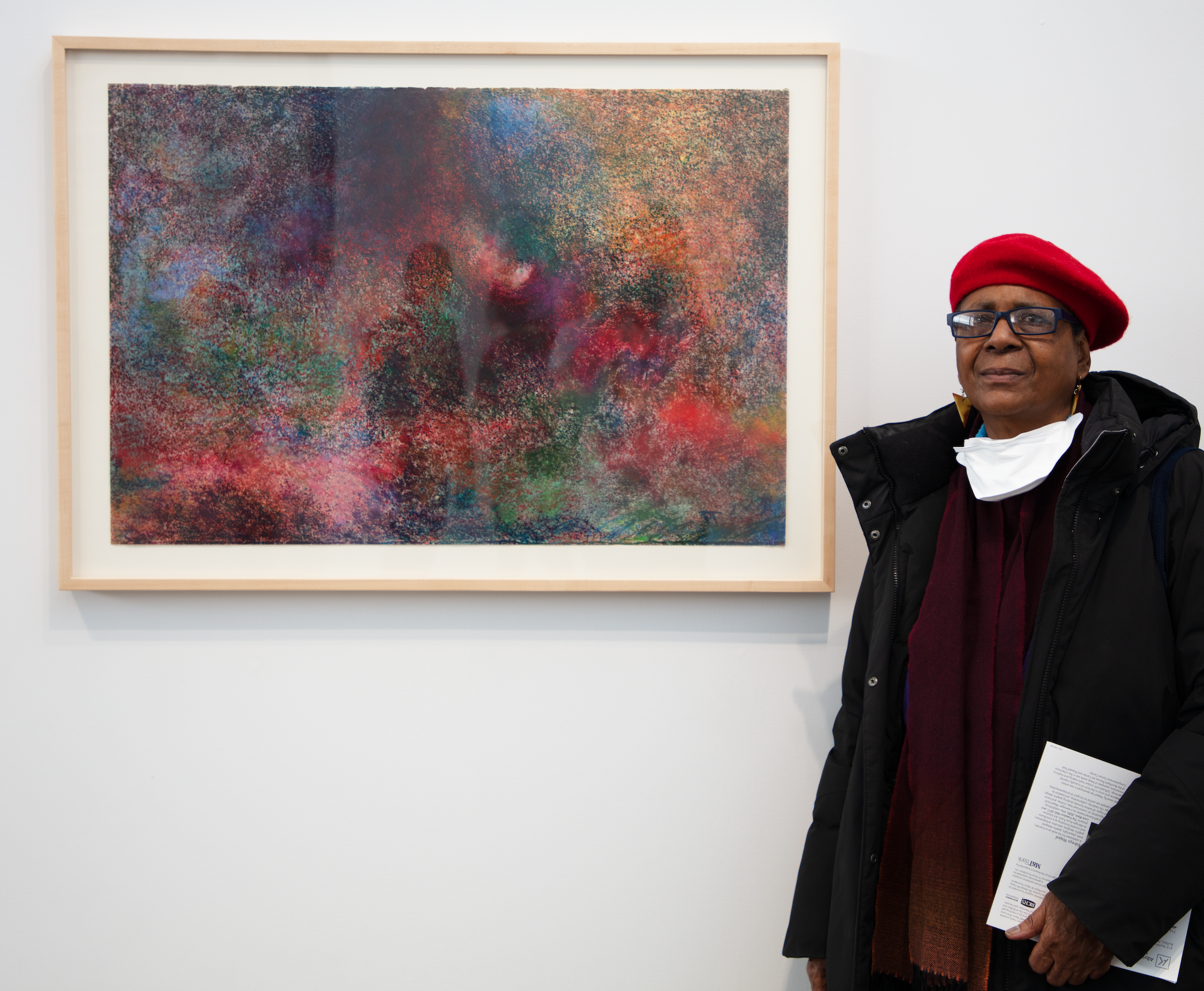 Phyllis Thompson stands in front of her work 
Untitled
, 1974, recently acquired by the Buffalo AKG Art Museum, at the opening of
In These Truths
, February 19, 2022, ​​​​​a special exhibition at Albright-Knox Northland. Photo: Jeff Mace for the Buffalo AKG Art Museum
Less known to audiences in Western New York (and a recent discovery for me) are Thompson's early works from the 1970s. My fellow curators and I spotted a flat file drawer in Thompson's studio that was slightly ajar, where these works had been living. These pure abstractions are masterworks of surface treatment that results in objects of complex texture and depth. In a standout untitled work from 1974, Thompson uses oil pastels and wax crayons on delicate mulberry paper to create an atmosphere of color. The composition vibrates between smooth and blended passages among layers of staccato stipples. The eye returns to an unblemished spot just off center, giving the work not so much a focal point but an anchor in the field.
A series of works titled Mdido emerged after the artist returned from a long trip to Nigeria in 1975. Thompson spent time primarily in the capital Abuja where the surrounding landscape, fashion, and markets inspired her. The series includes works featuring richly pigmented striations made primarily with wax crayon. The banded and foliated layering of the works recall the metamorphic rock geologic foundations beneath Abuja, known as gneiss. Thompson was also inspired by the rich variety of fabric designs of Ankara (wax print fabric) and Yoruba-inspired Aso oke (cotton combined with silk or metallic yarns). Thompson's abstractions feel as if they are woven and interlaced like fabric, threads appearing and disappearing from the surface, entwined in a creation all her own.

Installation view of works by Phyllis Thompson in the special exhibition 
In These Truths
, February 19–June 5, 2022, at Albright-Knox Northland, including the 
Mdido
series.. Photo: Brenda Bieger for the Buffalo AKG Art Museum
My fellow co-curators were as convinced as I was from the beginning that these works were ideally suited to join our collection, adding to and expanding on our institution's rich history of collecting abstract expressionism. Thompson's contemporary monoprints expand the diversity of our growing works of art that explore and question the lived experiences of Black artists. Both sets of work express the staggering depth of her studio production of more than fifty years.
PLUS! Watch Ott and fellow curators Edreys Wajed and Aitina Fareed-Cooke discuss Thompson and other artists from In These Truths: