There are a lot of amazing members at the Buffalo AKG Art Museum. We wanted to highlight just one this month: Gerald C. Mead, an artist in the collection, a collector of work by Western New York's finest artists, and a key figure of the Buffalo art scene.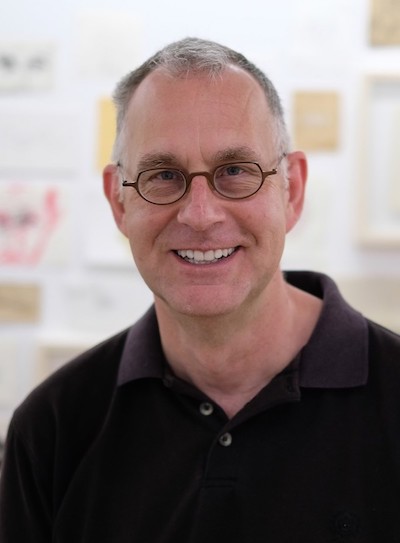 "Jerry, what's this box labelled 'blood slides?'" says the writer to Gerald C. Mead, a longtime member of the Buffalo AKG Art Museum, as he takes us on a tour of his home and art studio.
If you've ever been to an art event in Western New York, whether you've known it or not, there's a good chance you've run into Jerry Mead. That's because he's a pillar of Buffalo's art scene, an avid collector who for decades has been on the lookout for works that will complete a fuller picture of the region's deep bench of artistic talent.
Mead is also an artist who makes mixed media collages and assemblages, which is where the blood slides come in.
Mead laughs, "You never know when you'll need a blood slide." His studio is like that. It is both meticulously organized—he seems to be able to locate anything he wants to reference; there is an indexed filing cabinet that contains the fragments of collages he's made going back decades—and the studio is bricolage in its own right: stacks of vintage books and advertisements, drawers of found objects, photographic equipment, and the odd Mason jar of suspect liquid. It's a warehouse in miniature of idiosyncrasies, and each object in it waits, suspended in time, until Mead finds the exact right assemblage of objects to form a work of art.
"See," Mead says, taking out an assemblage that involves a plastic crucifix, a camera part with the letters "INF," standing for the focus setting "infinity," and one flat rectangle of glass: a blood slide. This all says something religious, and it's too clever by half, but that is exactly what is delightful about Mead's work; its detail rewards close inspection to an almost infinite degree. Throughout the tour of his home, Mead periodically quizzes us about what we are seeing. Partly, the writer thinks, because he taught design until his retirement last spring. But more importantly, one suspects Mead is just as taken with the eccentricities of the works that cover his house as he wants you to be.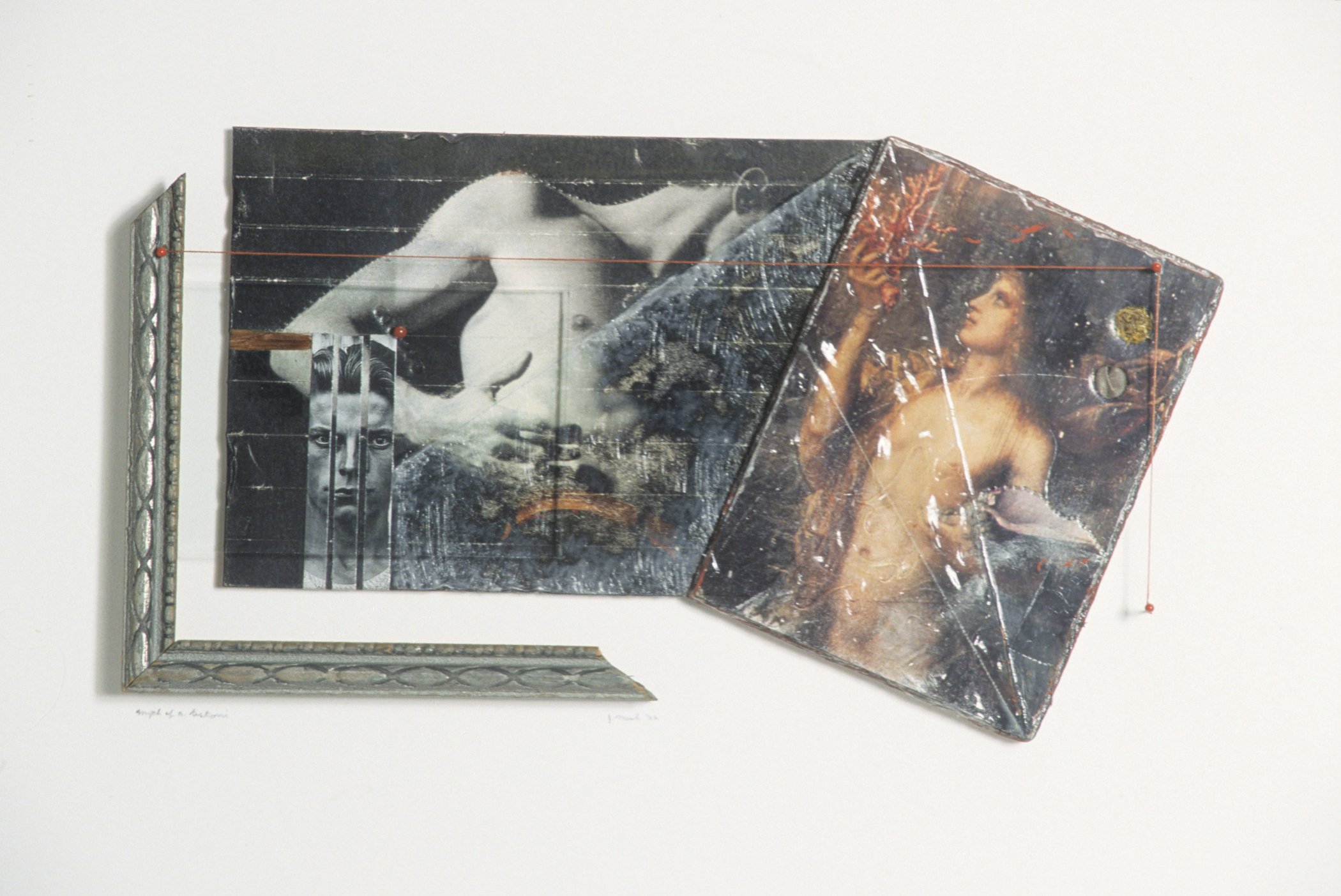 But it's not just cleverness at work in the pairing of image and object, as Mead refers to it. One of the works that strikes us is a one-inch cube of materials taken from Mead's childhood home, where he grew up one of eleven siblings. Placed on a scientific scale, it doesn't even tip the balance. Admittedly, the scale is rigged, but the message is clear: all that memory encompasses weighs less than nothing. It's a poignant moment in a cascade of ideas and objects.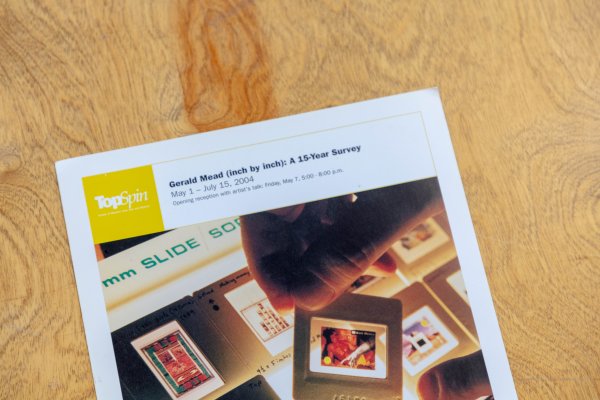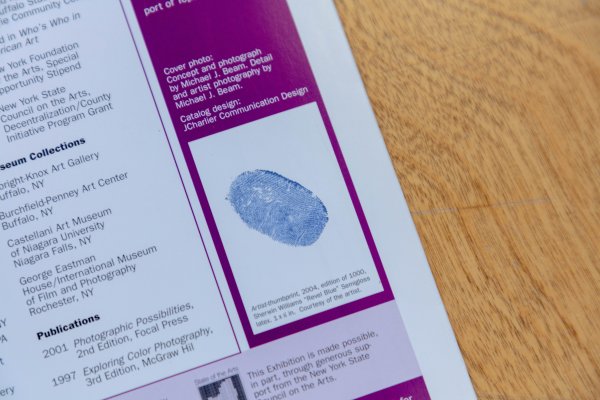 Which gets us to the idea of collecting. Mead's home is something of an art museum in its own right. Almost every inch of wall space is covered by a work of art. Tables throughout the space hold sculptures of varying kinds. (One begins to wonder where Mead eats.)
His collecting started often by trading with other artists and grew to the point where he now has a nearly comprehensive collection of work by regional artists. But even as it has grown, Mead's collecting has remained personal. He makes it a point to attend openings and to be present at artists' first shows, both a kind of witness-of-record for the area's artistic history but also someone who understands that an opening is a very personal moment in the life of an artist. In a way, he is there to usher the artist from the personal to the historical.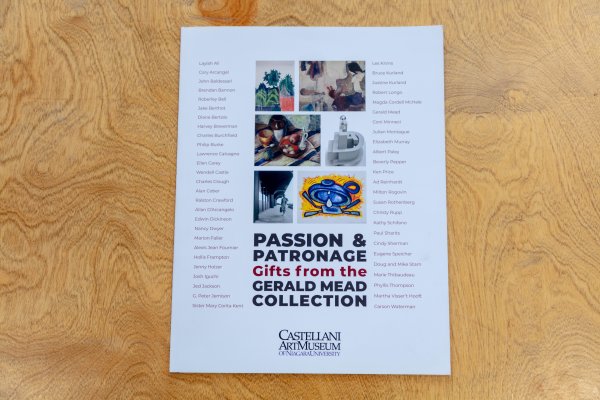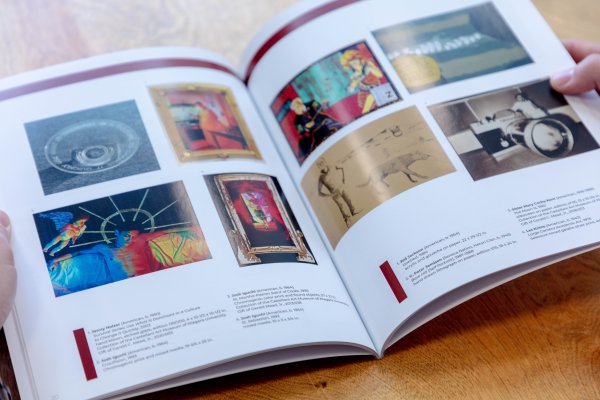 Looking at Mead's resume, one begins to realize just how much his collecting practice serves as a sort of circulatory system for local galleries. There's a constant rotation of artworks going out on loan to various institutions throughout the region. (As we talk, a stack of packaged artworks leans against his kitchen table, about to be sent out.) If someone wants to do a show of work by Daemen University alumni or of LGBTQ artists from the area, Mead is the first person to ask. Since 2002, more than seventy thematic exhibitions have been drawn from Mead's collection. He even made up his own accession form—and there's a database, too.
But why do all this—why invest all the time and energy to this?
"It's part of the lifecycle of an artwork," says Mead, "because an artwork will outlast the artist, and if it's not for that, artists would be forgotten."
---
About Gerald C. Mead, Jr.
Gerald Mead is an artist, collector, writer, curator, and taught in the Design Department at Buffalo State College, where he received his BS in Design and BA in Psychology, and of the University at Buffalo, where he earned his MFA in Visual Studies. In 2020 Mead was awarded an Honorary Doctor of Fine Arts from Niagara University. His highly detailed, small-scale collages/assemblages constructed from photographic materials and found objects are in the permanent collections of the Buffalo AKG Art Museum, Burchfield Penney Art Center (Buffalo, New York), Castellani Art Museum (Lewiston, New York), George Eastman House/International Museum of Film and Photography (Rochester, New York), Oregon State University (Corvallis, Oregon) and International Museum of Collage, Assemblage and Construction (Fort Worth, Texas), among others. His works have been in museum and gallery exhibitions throughout the United States and in Australia, England, Poland, Russia, and Canada and are published in five collegiate textbooks. Mead has received grants from the New York Foundation of the Arts and the New York State Council on the Arts and major awards include First Place at the Carnegie Art Center National Exhibition and a Fine Arts Award from Creative Quarterly: The Journal of Art & Design. Mead is also an appointed member of the Buffalo Arts Commission, serves on several art boards and committees in the region and frequently juries local and national exhibitions.
Mead was born in Hamburg, New York, and grew up with ten siblings. His collection has been featured in more than seventy thematic exhibitions. To see more of the work in Mead's collection, be sure to check out CEPA Gallery for Cindy Sherman: Retrospective: Works from the Gerald C. Mead, Jr. Collection—Mythologies of Identity, opening February 3 and running until April 22, 2023.