From the beginning of his career, Tony Conrad experimented with the cross-pollination of different artistic mediums and genres, often pushing the boundaries of how these are traditionally defined.
Yellow Movie 2/23–24/73 is from a series called Yellow Movies, in which Conrad explored the intersection of film and painting. To create his Yellow Movies, Conrad painted black rectangular frames in the same proportions as traditional movie screens on large pieces of photographic backdrop paper. He coated the interior of the rectangle with paint he knew would yellow and darken with time, and directed viewers to wait. Thinking about the way furniture pulled away from a wall after a period of years leaves a "photographic" impression—its darkened outline—Conrad recalled, "I realized that if I used cheap house paint as an emulsion, people who wanted to be in my Yellow Movies could stand against them for, say, a year or two and leave their trace embedded in them in a monumental way."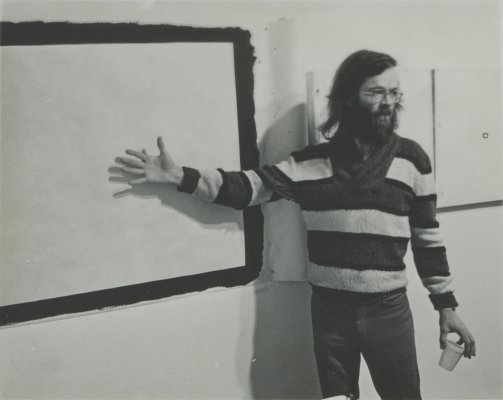 The Yellow Movies were mainly painted between the end of 1972 and early 1973, and were first exhibited in a one day only screening at the Millennium Film Workshop in New York City on March 10, 1973. Although they looked very much like the Minimalist painting emerging in the 1960s and '70s, Conrad saw these not as paintings at all but rather as incredibly long films that far surpassed previous durational works such as Andy Warhol's Empire, 1964 (running time: 8 hours, 5 minutes) or **** (Four Stars), 1967 (running time: 25 hours). Even when they are not on view, Conrad's Yellow Movies are always "screening," their surfaces reflecting the passage of time itself.