Over the course of Hervé Tullet: Shape and Color, six local artists, including Tricia Butski, will be in residence at Albright-Knox Northland creating murals that will later be installed in public locations. To celebrate these artists, we are spotlighting each one of them to talk about their practice and the ideas behind their work.
Tricia Butski grew up in typical Niagara Falls fashion, meaning you have a tiny house with a big yard, an ice cream shop down the street, and, Tricia says, "You have to have a job working in the state park at some point in your life." She worked as a Kodak photographer and learned how to drive a bus while describing the natural wonders of the Falls.
"My honest first artistic inspiration was Bob Ross," Tricia says. She came from a creative family, and with her father would sit absorbed in Ross's iconic The Joy of Painting. Tricia always enjoyed drawing things, but she didn't start taking art seriously until she was about 16.
Tricia's high school was small enough that it didn't have a large art program: one art teacher and one art room. But the art teacher—Mrs. Katz—noticed her growing interest and did everything she could to nurture it. She made up classes for Tricia to take, offered independent studies, and even bought art supplies out of her own pocket. At a time when Tricia wasn't totally confident in her abilities, it was Mrs. Katz and her parents who gave her the encouragement she needed to pursue a degree in art. "I just had some good adults in my life that kept pushing me," she says.
Through undergrad at various colleges, Tricia learned the fundamentals, working in a realist style that didn't yet satisfy her. "I wanted to push it more," she says, "but at the time I didn't know how yet."
Tricia describes graduate school as a long period of frustration, of trial and error, of making work she wasn't happy with, getting desperate and trying new things. At the same time, she had begun to think about how to make work about memory distortion.
"When I was growing up, we were really close to my grandmother. She was a part of our life every single day," Tricia says.
Eventually, Tricia's grandmother developed Lewy Body Dementia. The Alzheimer's Association describes Lewy Body as "a type of progressive dementia that leads to a decline in thinking, reasoning, and independent function" thought to be caused by a similar underlying issue that causes Parkinson's. Tricia says, "She would have different hallucinations. Memories that she would have from fifty years ago would come back and seem real to her."
This can be scary, not only to the person with the disease, but to friends and loved ones as well. Tricia says, "When somebody is going through something like that, you can't say, 'No, you're wrong,' or, 'No, that's not happening.' You just kind of have to adapt and be a part of it and just make sure you keep them safe."
It had a profound impact on Tricia, as she and her family adapted to the way her grandmother's mind was changing and how her memory now functioned. They had to figure out how to be a part of her life as it was now. She says, "This new reality she was experiencing became part of our reality."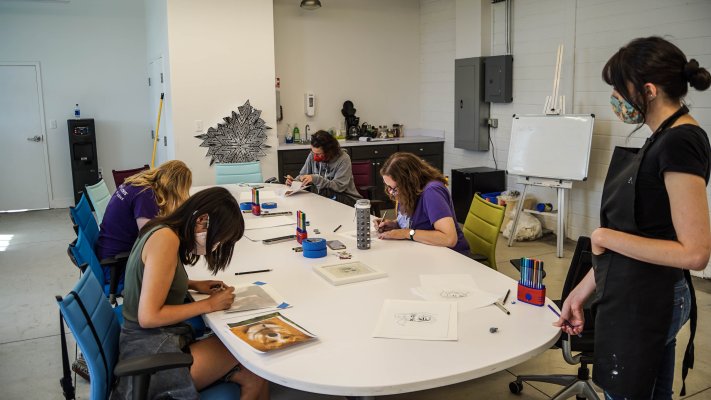 Butski wanted to figure out how to talk about this process visually. She says, "I made a bunch of paintings and sanded the paint off, creating a blurred, textured effect." Was this about loss? The removal of memory? It "didn't feel right," she says.
Then Butski began working with layers. The psychologist Sigmund Freud described the unconscious as like an ancient city, with its history of settlements and towns, built up, destroyed, rebuilt, over and over again, retaining traces of everything that's gone before. There is something to Butski's process that's like this: materials layered on top of drawings, on top of paintings, on top of photographs. Sometimes she would pull an image up on her computer screen, wrap the screen in plastic, and then pour inks, water, and different ointments on top of it.
A class with then–UB Professor and comics artist and illustrator John Jennings unlocked something for Butski. The class focused on the meaning of monsters, the complex role they play in our mythologies and our psyches. Butski, too, was grappling with a monster; not disease, but the fears that came along with it: of someone changing, of it happening to someone else you loved. "I feel like a lot of art does come from trauma. Whether we mean for that to happen or not, it resurfaces in all different ways," Butski says.
In looking at Butski's work one might think it is dark, but darkness isn't straightforward either. Butski says, "People have different reactions, where they feel, 'Oh my God, this is scary. It looks like a nightmare,' and other people think it's beautiful and comforting."
Working with charcoal—quite literally the remains of animal and vegetable life—Butski revitalizes something dead. Like memory, charcoal too is impermanent, vulnerable to the elements and delicate. Butski says, "As long as it exists, it's going to change, and it's going to distort."
That vulnerability can be terrifying to many of us, but Butski's work insists on the difference between loss and change. As some things are forgotten and others take on an oversized role in our imagination, she says, "There is some beauty in the distortion process of memory."
We invite you to come and interact with Butski, as well as artists Julia Bottoms and Rachel Shelton, during their residencies at Albright-Knox Northland from June 26 to August 1. In order to ensure a safe environment for all, we encourage you to review our Courtesy Code and reserve your visit date and time prior to your arrival.