Over the course of Hervé Tullet: Shape and Color, six local artists, including Julia Bottoms, will be in residence at Albright-Knox Northland creating murals that will later be installed in public locations. To celebrate these artists, we are spotlighting each one of them to talk about their practice and the ideas behind their work.
In our society the color brown is only beautiful in certain contexts. As the artist Julia Bottoms states, "It is safe, and comforting. It is our coffee, our chocolate, our expensive leather and our rich soil. It is prized until it is coupled with black features or black culture, at which point it becomes 'otherness.'"
To see  Bottoms paint in public is to see the beauty of skin built up from rich base layers of purple and red and brown, to see distinct features—the bulb of a nose, the brightness of an eye—emerge and come together. It is to see that "skin deep" is deep indeed.
Bottoms grew up all over Western New York before her family landed in Cheektowaga, where she was one of a very few Black students. Her mother had a talent for art, which she nurtured quietly; Bottoms still cherishes a portrait her mother drew of her when she was only four years old. In college at Buffalo State, Bottoms began the process of discovering who she was.
Always artistically inclined, Bottoms started, like many young artists, drawing as a hobby what she found pretty or interesting. But after trying out fashion design, Bottoms moved fully into a fine art degree. An early grant to research her family set Bottoms down the path she's on now.
Coming from a family that is Black on one side and Greek on the other, Bottoms travelled to the South to take photographs of her family members and hear their stories, trying to answer the question of what her identity looks like for herself. Bottoms's work wove the two sides of her family together into a visual family tree: no matter how many branches, limbs, and grafts, still one trunk, one root system.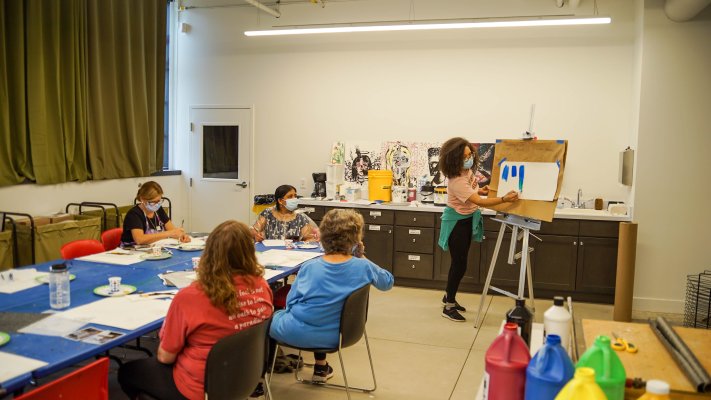 Bottoms's current body of work has its origin in 2012, after learning of the death of Trayvon Martin. Horrified by the stereotypes that the media proliferated around a slain child, Bottoms began to craft work that would speak back against this kind of brutality. She writes, "In a culture that reduces the beauty, grace, and intellect of black men to a two-dimensional caricature, it is necessary to promote images that break the cycle."
Her portraiture of black men highlights qualities such as softness and vulnerability for which there is little space in a world that can be hostile and dangerous. One witnesses how much care is in her artistic vision as she describes one of her subjects, Philmore, 2016: "He has some of the most beautiful skin I've ever seen. It is rich with pigment and reflects the light in the most captivating way. . . . It is strange to me how anyone could not see the beauty in his skin." Shearing away the clichés and negative stereotypes attached to Black men, Bottoms centers the warmth and light of human experience that shines through an unguarded face.
Bottoms has now extended the spotlight to another part of her community, Black women. At a recent show at Box Gallery called HER, Bottoms presented nude figures for the first time. While she worried that the portraits could be interpreted as sexualizing Black bodies, she learned to trust her work. "This is what's in me to do," she says.
The mural she is completing now as a resident artist for Hervé Tullet: Shape and Color at Albright-Knox Northland is about the wisdom women pass down through generations. Bottoms often paints people that she knows, friends and family, making her work almost an extension of that family tree. One of the figures in this mural is Bottoms's niece, who has a lighter complexion and blonde-brown hair; the other is Bottoms's mother, a Black woman. "My family is multi-cultural, and we look very different," Bottoms states. "I remember when my mom had my youngest sister. She looked pretty different than we do when she was little. She had blonde-ish brown hair and gray eyes when she was born." People assumed her mother was a babysitter.
Race in this country is often thought of as a complicated thing, impossible to understand. That may be true. Often race is painful, covering scars that run generations-deep, but sometimes it's not complicated, like the pencil drawing that a mother makes of her daughter, or the paintings that a daughter makes of an ever-growing circle of loved ones, or a grandmother and her grandchild.
"Keep it simple," Bottoms says, "They're family."
We invite you to come and interact with Bottoms, as well as artists Tricia Butski and Rachel Shelton, during their residencies at Albright-Knox Northland from June 26 to August 1. In order to ensure a safe environment for all, we encourage you to review our Courtesy Code and reserve your visit date and time prior to your arrival.